Africa becoming 'a new center of power' – Putin
The era of hegemony of one or several states is fading into the past, the Russian leader has said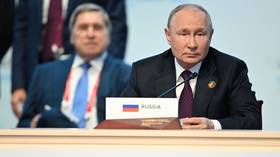 Africa's political and economic power is growing, while formerly dominant world powers are losing their influence, Russian President Vladimir Putin said during the Russia-Africa Summit in St. Petersburg on Friday.
"Before our eyes, the African continent is becoming a new center of power. Its political and economic role is growing exponentially. And everyone will have to reckon with this objective reality," the president said during a plenary session of the summit.
Putin stressed that while "some manifestations of colonialism, unfortunately, have not been eliminated to this day and are still practiced by the former imperial powers, particularly in the economic, information and humanitarian spheres," the era of hegemony of one or several states is fading, despite resistance from those seeking to maintain a monopoly on world affairs.
The president also pledged that Russia will continue to expand its interaction with African countries, calling it a natural process. He noted that despite the difficult conditions on global markets, trade between Russia and the continent continues to grow, and is far from reaching its limit.
Meanwhile, in international politics, the positions of Russia and African states on many key issues are very close or completely coincide, Putin noted, stating that all sides want to build a more just architecture for the global order, and to jointly uphold international law.
The president stressed that Russia and African nations oppose using "punitive" measures to strong-arm other countries.
"We oppose the use of climate issues, the protection of human rights, and the so-called gender agenda for unseemly political purposes," Putin said. "Illegal practices such as unilateral sanctions and restrictive, in fact punitive, measures that harm countries pursuing an independent course are unacceptable, and create economic problems on a global scale that hinder development."
Putin also noted that Russia and Africa are "united by an innate desire to defend true sovereignty, the right to their own, original path of development in the political, economic, social, cultural and other spheres," and stressed that the desire for such independence does not mean self-isolation, but leads to increased ties with other sovereign states.
The Russia-Africa Summit has entered its second day in St. Petersburg, with 49 African delegations attending, including 17 heads of state. One of the key aims of the event is to boost collaboration between Moscow and the African continent on peace, security and development goals.
You can share this story on social media: