Foreign military meddling expedited Niger coup, analyst claims (VIDEO)
Among the true aggravating factors, Mbodou Wakil believes, was the deployment of overseas troops incapable of combating terrorism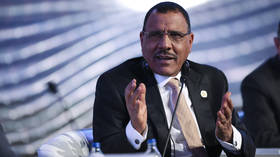 The current government takeover in Niger stems from a leadership problem that cannot be resolved by simply condemning the parties involved or by foreign military intervention, political analyst Mbodou Wakil has told RT.
Soldiers in Niamey claimed to have ousted Niger's democratically elected president, Mohamed Bazoum, late on Wednesday, declaring on state television that the government had been dissolved due to deteriorating security in the country.
The West African country's presidency announced that some members of the head of state's security detail, who were reported to have detained the leader, had engaged in an "anti-republican" initiative.
Bazoum, an ally of Western powers in the fight against the jihadist insurgency, had agreed with France last year that Paris could shift its troops to Niger from Mali, its neighbor to the west.
Wakil explained to RT that key unresolved issues, of failure to rid the country of terrorism and of leaders using democracy as a tool to enrich themselves, have fueled this week's act of apparent sedition.
He said that "bringing in military forces from foreign countries that are not able to fight against terrorism" and then the conditions that are "helping the terrorists to come in" are "real problems" that have been the "motive of this new system of coup d'etat in Niger."
You can share this story on social media: