Kremlin reveals details of Russia-Africa summit
Some 49 African countries will be represented at the two-day event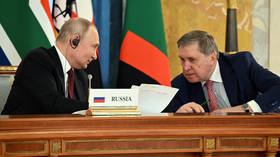 Russian President Vladimir Putin will open the second Russia-Africa Summit in St. Petersburg by addressing attending heads of state at a plenary session on Thursday, his aide Yury Ushakov has told reporters.
Only five African countries will not be represented at the summit, Ushakov said, noting that the high rate of participation "confirms [Africans'] desire to strengthen ties with our country, no matter the circumstances."
Of the 49 African governments, 17 will be represented by heads of state. Five are sending their vice presidents, four will be represented by heads of government, and one by a head of parliament, Ushakov explained.
Another 17 countries will be represented by deputy prime ministers or foreign ministers, and five by ambassadors.
Putin will address the morning session of 17 heads of state, and is expected to announce several Russian initiatives to help Africa with "sovereign development," including access to food, fertilizers, modern technologies and energy, the aide said.
"Our president will make a major statement and assess the current state of the system of international relations, including in the formation of a new world order, which is based on the principle of multipolarity and equality of all independent states," Ushakov told reporters.
The working breakfast afterward will be attended by delegations who have sent lower-level representatives. In addition to individual governments, Ushakov pointed out that the summit will be attended by "literally all the leaders" of key regional organizations on the continent, from the African Union to the African Export-Import Bank.
The gathering will have the same motto as the first summit, held in Sochi in 2019: 'For Peace, Security and Development', with the main idea being to promote Russian-African cooperation and strengthen the sovereignty of African states, according to Ushakov.
An economic and humanitarian forum taking place in parallel will connect Russian and African entrepreneurs, media, civil societies, scientists, and experts in various fields – from agriculture, mining, and finance to infrastructure, technology, and medicine.
Putin will arrive in St. Petersburg on Wednesday to hold bilateral talks with the prime minister of Ethiopia and the president of Egypt and meet with BRICS New Development Bank head Dilma Rousseff, the former president of Brazil.
You can share this story on social media: