Rwandan genocide suspect seeks political asylum
Fulgence Kayishema is facing more than 50 charges, including fraud for faking documents to enter South Africa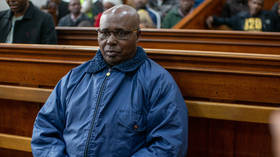 Former police officer Fulgence Kayishema, who is on trial for his alleged role in the 1994 Rwandan genocide, has applied for asylum in South Africa after abandoning a bail application, prosecutors said on Tuesday.
Kayishema was arrested last month at a grape farm in Paarl, outside Cape Town, in a joint operation by UN investigators and South African authorities, after evading justice for almost three decades.
He was indicted by the International Criminal Tribunal for Rwanda (ICTR) for committing genocide and crimes against humanity, and is accused of ordering the killings of more than 2,000 people seeking refuge in a church in Rwanda.
When he first appeared in court in May, Kayishema denied any involvement in violence but said he was "sorry" for the incident.
The 62-year-old suspect, who appeared briefly at the Cape Town Magistrates' Court on Tuesday, faces 54 charges, including fraud for faking documents to enter South Africa and violating immigration and refugee legislation, local media reported, citing the National Prosecuting Authority (NPA).
Kayishema's lawyers were served with the charges on June 9, according to NPA spokesperson Eric Ntabazalila.
"Today, Fulgence's lawyer, Juan Smuts, confirmed that they did consult with their client, and he instructed them that he was abandoning his bail application at this stage," Ntabazalila said, as quoted by South African outlet IOL.
Ntabazalila reiterated his earlier statement that the state was opposed to bail.
The case has been rescheduled for August 18 for further investigation, and Kayishema remains in custody.
The UN tribunal wants the accused extradited to one of its courts in Arusha, Tanzania, and then transferred to Rwanda for trial.
Some 800,000 Tutsis and moderate Hutus were killed in the 100 days of violence that took place in the East African nation between April and July 1994.
You can share this story on social media: