Mali demands that UN troops leave
Bamako's top diplomat said the international peacekeeping mission has become "part of the problem"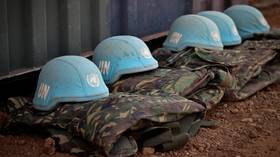 Mali has called on the United Nations to end its decade-long peacekeeping mission "without delay," saying the international military force has only fueled tensions and instability in the African country.
Addressing the UN Security Council on Friday, Malian Foreign Minister Abdoulaye Diop said officials are willing to continue coordination with the UN, but demanded an end to its "stabilization mission." The UN force, known as MINUSMA, was deployed in 2013 in response to the Tuareg rebellion in the northern part of the country.
"Unfortunately, MINUSMA seems to have become a part of the problem in fueling inter-community tensions," Diop said, calling for the withdrawal of UN troops.
The minister accused UN forces of "begetting mistrust among the Malian population" and creating a "crisis of confidence" within the government.
MINUSMA head El Ghassim Wane responded by saying that it would be "nearly impossible" to continue the UN mission without the consent of the host country. The UN has until June 30 to extend the deployment, which requires nine votes in favor from the Security Council and no vetoes from its five permanent members.
Relations between Bamako and the UN have deteriorated over the last year, with Mali's interim military authorities suspending troop rotations under MINUSMA in July 2022. The decision came shortly after the Malian authorities arrested 49 soldiers from Cote d'Ivoire and described them as "mercenaries." Ivorian officials, meanwhile, insisted that the troops were part of the peacekeeping mission.
Last August, Mali ordered the expulsion of MINUSMA spokesman Olivier Salgado after he publicly stated that the Ivorian military personnel were assigned to the UN force. The head of MINUSMA's human rights office, Guillaume Ngefa Atonodok Andali, was also declared persona non grata in February and was asked to leave the country for "destabilizing and subversive actions."
Mali has seen years of political instability, including two separate coups in 2020 and 2021 and an ongoing jihadist insurgency in the country's rural northern region. The 2012 Tuareg uprising led to the creation of the UN mission, which ultimately swelled to more than 15,000 foreign troops. The international mission was aimed at bolstering security in Mali, as well as facilitating humanitarian aid and the transition to civilian government.
Moscow has said that MINUSMA lacks the proper mandate to assist Mali with its most pressing problems. Speaking to the Security Council on Friday, Russian UN envoy Vassily Nebenzia argued that the local government's top priority was "fighting terrorism," which he said is not a main focus of the UN mission.
Separately from the UN, France deployed its own troops in 2014 to fight insurgents on behalf of the Malian government. The French soldiers withdrew from the country last year as the relations between Paris and Bamako worsened.
You can share this story on social media: