Top UK cleric urges Ugandan Anglicans to reject anti-gay law
This isn't about imposing Western values, but about treating everyone with the respect they deserve, Justin Welby insists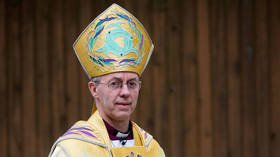 The Archbishop of Canterbury, Justin Welby, has voiced concern over the Ugandan Anglican Church's endorsement of a recently passed Anti-Homosexuality Act, and urged the sister church to oppose it.
"There is no justification for any province of the Anglican Communion to support such laws: not in our resolutions, not in our teachings, and not in the Gospel we share," Welby said in a statement on Friday.
The leader of the Church of England said he had written to Archbishop Stephen Kaziimba, the Primate of Uganda, to express "grief and dismay" and to stress the inconsistency between the Church's stance on the anti-gay law and its alignment with "Resolution i.10."
Resolution i.10 of the 1998 Lambeth Conference, a meeting of Anglican Bishops held every 10 years, established teaching on marriage as being between a man and a woman, and the church's stance on homosexuality.

The resolution "expressed a commitment to minister pastorally and sensitively to all – regardless of sexual orientation – and to condemn homophobia," the leader of the worldwide Anglican Communion explained.
Kaziimba issued a statement in May after President Yoweri Museveni approved the widely criticized law, saying the church was "grateful" for its passage. He insisted that homosexuality was being forced on Ugandans by "foreign actors" seeking to undermine the culture of the former British colony.
"We thank the President for not surrendering to their threats and for protecting Uganda from their paths of self-destruction," the bishop noted.
Archbishop Welby, while acknowledging the injustice of colonial rule in the East African country, argued that protesting against the anti-gay law, which imposes life in prison for gay sex and the death penalty for "aggravated homosexuality," is not about "imposing Western values" on Ugandans.
"It is about reminding them of the commitments we have made as Anglicans to treat every person with the care and respect they deserve as children of God," he said.
He urged the Church of Uganda and its leader to rethink their support for the legislation and to reject the criminalization of LGBTQ people.
You can share this story on social media: