African country ready to make Russian SUVs
Carmaker UAZ wants to expand to Ghana amid Western sanctions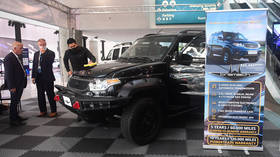 Companies in Ghana are interested in assembling Russian UAZ vehicles, RIA Novosti reported, citing the Chairman of the Ghana-Russia Business Development Council Lawrence Awuku-Boateng.
Negotiations are planned in Moscow within the next two months between companies from the West African country and Russia's UAZ manufacturer Sollers, Awuku-Boateng told the media. If the sides come to an agreement, Russian off-road vehicles will be assembled in Ghana, he added.
Sollers is a Russian firm holding a controlling stake in the Ulyanovsk automobile plant (UAZ) and the owner of the UAZ brand. The automaker manufactures a range of Patriot SUVs, pick-up trucks, light commercial vehicles and vans. UAZ was founded in 1941 and is best known for the UAZ-469 utility vehicle, which has been widely used as a military vehicle around the world. The plant has been part of the Sollers automotive group since 2000. UAZ Patriot was the second best-selling car in Russia in 2022 with a market share of 16.8%, according to the company. The SUV was also available in the US under the Bremach brand.
Before Western countries launched their sanctions campaign against Russia over its military operation in Ukraine, Sollers assembled cars for manufacturers such as Ford and Mazda. Both suspended their joint ventures with the Russian company last year.
The Russian Foreign Ministry said earlier that Russia's largest car manufacturers, including UAZ and Kamaz, were interested in entering the Ghanaian market.
Ghana strives to become a regional hub for auto assembly in West Africa. The country's government has been promoting foreign investment through its Automotive Development Policy, introduced in 2019. It also offers tax breaks of up to 10 years to auto makers that set up local manufacturing plants. Industry leaders such as Volkswagen, Peugeot, Toyota, and Nissan already assemble vehicles in Ghana, and a Kia assembly plant was commissioned last month.
The Central African Republic also expressed interest in assembling cars from the UAZ Patriot range in May of this year.
For more stories on economy & finance visit RT's business section
You can share this story on social media: