Experts comment on Nigerian president's first speech
Bola Ahmed Tinubu has been sworn in amid opposition challenges to his legitimacy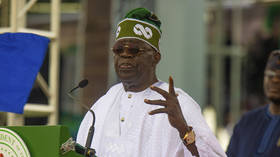 Nigeria's president-elect, Bola Ahmed Tinubu, was sworn into office on Monday, despite calls to nullify the outcome of the February 2023 election.
In his first speech to the nation, the new president called for the preservation and development of democracy in Nigeria. He named democratic governance as the key to driving reforms which would ultimately unlock the potential of the nation.
"Our administration will govern you only on your behalf, but never rule over you. We shall consult and dialogue but never dictate," said Tibunu.
"A lot is expected, [Tibunu] has to do a lot to bring people together across party, regional and cultural lines," said Dr. Moses Ogidi Paul, spokesperson for the Free Nigerian Movement.
"There's so much that Nigeria's new president will have to do to get the people working again and uniting again and collaborating again."
Meanwhile, Nigeria's opposition Labour Party spokesperson, Dr. Yunusa Tanko, remarked that several court cases alleging election irregularities were still being considered.
"This is where we put our judiciary to task, and we hope that they will look at the substance of the cases we've brought before the courts…then we may say democracy is on the right path."
You can share this story on social media: