Bus crash in Cameroon results in multiple deaths
A passenger bus collided with a truck on the Yaounde-Douala highway, the government has said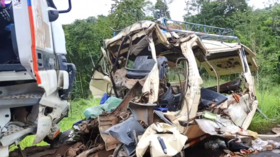 At least 19 people were killed in a bus crash on the Yaounde-Douala highway near the town of Edea on May 26, the government of Cameroon said. A truck transporting sand reportedly collided head on with a bus, crushing the latter and killing most of the passengers. Just three people managed to survive the impact.
Cameroon's Minister of Transport, Jean Ernest Massena Ngalle Biebehe, visited the scene of the accident.
According to Ngalle Biebehe, the driver lost control of the bus, leading to the collision with the heavy truck.
You can share this story on social media: