Russian helicopters arrive in Zimbabwe
With his country sanctioned by the West, President Emmerson Mnangagwa reached out to Moscow for the aircraft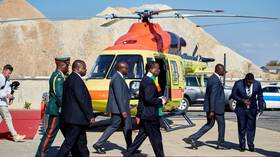 A fleet of 18 Russian Ansat helicopters was delivered to Zimbabwe this week to assist with policing and disaster relief. Speaking at the handover ceremony in Harare, President Emmerson Mnangagwa and Russian Ambassador Nikolay Krasilnikov said that sanctioned states must cooperate with each other.
Built by Kazan Helicopters, 12 of the Ansat choppers will be used for disaster management, while six will be put to use by law enforcement. By 2025, the country's fleet is expected to grow by nearly three dozen.
"It makes us proud that in the current geopolitical situation, Russia and Zimbabwe are all-weather friends," Krasilnikov said at the ceremony on Thursday. "The ultimate goal of our governments and businesses is to make the life of our people more comfortable, safe, and secure."
Zimbabwe was placed under sanctions by the US and EU in the early 2000s over alleged election fraud and human rights abuses. Mnangagwa and his predecessor, Robert Mugabe, were both personally blacklisted, and the US maintains a ban on the sale or supply of most defense and technology items to Zimbabwe.
"Now for 23 years we are living under sanctions imposed by the West," Mnangagwa said on Thursday, claiming that Washington's "intention is regime change."
"We are constrained… to acquire the tools we need to mitigate the impact of cyclones and disasters," he continued, adding that he decided to buy Russian helicopters after reaching out to his "brother," Russian President Vladimir Putin.
You can share this story on social media: