South African president faces predecessor in court
Cyril Ramaphosa is seeking an injunction to prevent Jacob Zuma from pursuing a private prosecution against him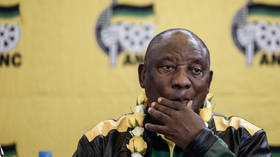 South African President Cyril Ramaphosa and his predecessor Jacob Zuma faced off in court on Thursday, with the head of state seeking to have a private prosecution against him thrown out.
Zuma initiated the private case against Ramaphosa in December, accusing him of being an "accessory after the fact" to a crime allegedly committed by state prosecutor Billy Downer and journalist Karyn Maughan. The case alleges that Downer gave Maughan a copy of Zuma's medical records, which were later disclosed in court.
Zuma claims Ramaphosa failed to act on Downer's alleged breach. Ramaphosa is now seeking an urgent interim interdict against Zuma, preventing the case from going any further, arguing that it is purely political.
An attorney for Zuma argued in court on Thursday that President Ramaphosa could not claim urgency in the case since he did not promptly seek legal recourse when he received the summons.
A lawyer for Ramaphosa, Ngwako Maenetje, called the charges "frivolous and vexatious," adding that "the courts are not there to settle political scores or to deal with personal animosity."
You can share this story on social media: