UN urges end to Sudan conflict as ethnic clashes kill 25
The latest violence is said to be unrelated to the power struggle between the country's rival armed forces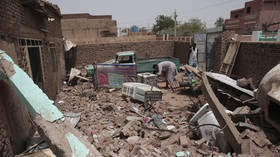 Renewed clashes among the Hausa and Nuba ethnic groups in the Sudanese city of Kosti have claimed 25 lives. The violence comes amid weeks of fighting between rival military factions in the capital Khartoum, with the UN on Thursday calling for an end to the conflict.
Speaking to RT on Friday, local reporter Abdallah Hussein said the governor of the Kosti region had imposed a curfew in the White Nile state, which stretches from Khartoum to the border close to South Sudan.
While the violence is reportedly unrelated to the power struggle between the Sudanese Armed Forces (SAF) and the Rapid Support Forces (RSF), Hussein said the region is known for inter-ethnic and inter-tribal tensions. More than 200 people were killed in a similar conflict in October last year. "It also happened in 2021," he added.
Meanwhile, the battle for control of Sudan, which escalated on April 15 between the SAF and RSF, has killed more than 600 people and injured more than 5,000, the World Health Organization has said. UN human rights chief Volker Turk on Thursday urged "all states with influence in the region to encourage, by all possible means, the resolution of this crisis."
Displaced locals who spoke to RT described the situation as "beyond terrible." The UN estimates that 700,000 people are now internally displaced.
Ceasefire talks backed by the US began in the Saudi Arabian port of Jeddah on Saturday, with reports suggesting progress is being made. The warring rivals signed a declaration on Thursday and committed to abide by humanitarian principles.
You can share this story on social media: