'Mysterious' disease kills nine in Kenya – officials
More than 80 others are bedridden as a team of surveillance experts and laboratory technologists work to identify the illness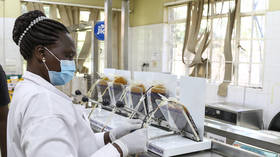 A "mysterious" disease has ravaged Kagi, a community in Kenya's northern county of Marsabit, killing nine people and leaving more than 80 others severely ill, according to local authorities.
"We have lost nine people so far and at least 80 others are bedridden in the villages," Moses Galoro, senior chief of the region, said on Wednesday, according to Nation Media. He appealed for immediate intervention to contain the outbreak and prevent more deaths. He said six of the deceased were adults, and three were children aged between one and three years.
The disease, first reported two weeks ago, is suspected to be a form of "violent malaria" based on preliminary investigations by health officials. Symptoms reported include flu-like illness, yellow eyes, severe headaches, and a swollen spleen, with one victim exhibiting signs similar to Kalazar, a type of visceral leishmaniasis.
An invasive mosquito species was found in the Laisamis and Saku areas of Marsabit county by the Kenya Medical Research Institute two months prior to the outbreak.
The Marsabit County Health Department said on Thursday that it was "working closely with the other health agencies, and all necessary measures are being taken to identify, contain and manage the outbreak."
Earlier this week, the department also said the situation was "under control" as a team of disease surveillance experts and laboratory technologists were collecting blood samples for verification.
On Tuesday, anti-malaria drugs for both adults and children, paracetamol, and antibiotics were made available to the community, with additional drugs sent on Thursday.
"We encourage residents to take preventative measures such as washing their hands frequently with soap and water, avoiding contact with sick people, and seeking medical attention if they experience any symptoms," the county health department said.
You can share this story on social media: