Sudan conflict fueling refugee crisis – UN
Hundreds of thousands are believed to be internally displaced in addition to those fleeing the country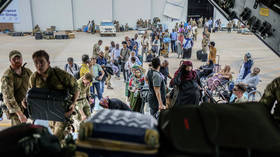 More than 100,000 people have fled Sudan due to fighting between government forces and a rebel militia, the United Nations has said, warning the number of war refugees could eventually top 800,000.
A spokesperson for the United Nations High Commissioner for Refugees (UNHCR), Olga Sarrado, detailed the growing refugee crisis during a Tuesday press briefing, telling reporters that Sudan's neighbors are simply not equipped to handle the massive exodus of people.
"The majority remain severely underfunded. Asylum countries will need additional support to provide protection and assistance," she said, noting they would require help with food, water, shelter, healthcare and child protection services, among other things.
While host nations are already struggling to care for more than 100,000 Sudanese refugees, Sarrado said that figure could soon swell to over 800,000, stressing the need for more international aid.
UN Deputy Spokesperson Farhan Haq warned that "many will die" due to a lack of essential services and goods, saying Sudan, too, is in severe need of resources.
"Medical stockpiles are running critically low in areas ravaged by the fighting – including in the capital Khartoum, and West and Central Darfur. And the price of basic commodities, from fuel to food staples and bottled water, has risen by 40 to 60 per cent or more in some areas," he said at a separate press conference on Tuesday.
The International Organization for Migration also estimates that well over 300,000 people have been internally displaced in Sudan since fighting erupted last month. Even before the latest bout of violence, Sudan was already hosted more than 1.1 million foreign refugees, the most in Africa, in addition to a pre-existing population of internally displaced Sudanese of nearly 4 million, according to the UNHCR.
The Sudanese Health Ministry estimates that at least 528 people have been killed in the conflict so far, as well as more than 4,500 wounded, including both civilians and combatants.
The security situation in Sudan has rapidly deteriorated since April 15, when clashes broke out between the government and the country's paramilitary Rapid Support Forces (RSF). The RSF played a major role in the 2019 ouster of Sudanese President Omar al-Bashir – who had been in power for 30 years prior to the coup – but the militia group has since resisted formal integration into the military, prompting a power struggle which eventually boiled over into fighting.
You can share this story on social media: