South Africa remains ICC participant – presidency
President Cyril Ramaphosa misspoke when he claimed the country would withdraw from the court, his spokesman clarified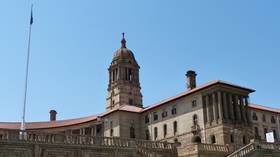 South African President Cyril Ramaphosa made a mistake when he said the country would leave the International Criminal Court (ICC), his office said on Tuesday.
"This clarification follows an error in a comment made during a media briefing held by the governing African National Congress (ANC) on South Africa's status with regard to the ICC," Ramaphosa's office said in a statement on its website.
"Regrettably, the President erroneously affirmed a similar position during a media session today."
The presidency affirmed that South Africa remains a party to the Rome Statute, the ICC's key document, and will "continue to campaign for equal and consistent application of international law."
Ramaphosa suggested pulling out of the court earlier as his country prepares to host a BRICS summit (an informal group that includes Brazil, Russia, India, China, and South Africa) in August. Last month, the ICC issued an arrest warrant for Russian President Vladimir Putin. The court accused Putin and Russian Children's Rights Commissioner Maria Lvova-Belova of the "unlawful deportation" of children from "occupied areas of Ukraine."
The charges refer to Russian efforts to evacuate civilians away from areas – mostly in the predominantly Russian-speaking region of Donbass – that were shelled by the Ukrainian military. Russia, which like the US is not an ICC signatory, has taken in approximately 2.9 million refugees from Ukraine, more than any other country.
Moscow has denied the allegations, maintaining that children were being lawfully evacuated from a combat zone and later reunited with their families when their relatives came forward.
Speaking to reporters on Tuesday, Ramaphosa said the ANC "has taken the decision that it is prudent that South Africa should pull out of the ICC largely because of the manner in which the ICC has been seen to be dealing with these types of problems."
As a party to the ICC, South Africa is supposed to respect the court's decisions. Russia signed the Rome Statute in 2000 but did not ratify it, and has since withdrawn its signature. The Kremlin said last month that Moscow does not recognize the court's jurisdiction.
You can share this story on social media: