Warring parties in Sudan declare ceasefire
Nearly 430 people have been killed in fighting that broke out this month, the UN has said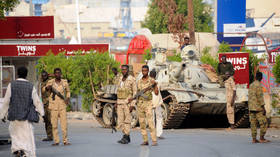 The Sudanese Armed Forces (SAF) and the rival paramilitary Rapid Support Forces (RSF) have agreed to a 72-hour ceasefire starting on Tuesday. The news comes after a failure to reach a 24-hour truce last week amid violent armed conflict between the groups.
"This ceasefire aims to establish humanitarian corridors, allowing citizens and residents to access essential resources, healthcare, and safe zones, while also evacuating diplomatic missions," the RSF said in a statement on Monday.
The RSF said the truce had been mediated by the US, while the SAF said the deal was a result of a US-Saudi effort. The SAF expressed hope on Monday that the ceasefire would help create "appropriate humanitarian conditions" for civilians.
US Secretary of State Antony Blinken urged both sides to "immediately and fully uphold the ceasefire."
However, on Tuesday, the RSF accused "the other party" of violating the truce by having "its aircraft fly over Khartoum," the country's capital. The group reiterated its "absolute commitment" to the agreement.
Al Jazeera, meanwhile, cited local reports as saying that fighting resumed in Sudan's West Darfur state after the truce was declared.
The SAF, in turn, claimed that RSF members had begun to wear police uniforms in order to "carry out more attacks and spread chaos."
The fighting first broke out in Sudan on April 15 as the SAF and RSF blamed each other for starting hostilities. The open conflict followed tensions between Transitional Sovereignty Council Chairman Abdel Fattah al-Burhan and RSF commander Mohamed Hamdan Dagalo over how the RSF force should be integrated into the military.
At least 427 people were killed and more than 3,700 injured, according to the UN. On Monday, Ahmed Abu Zeid, the spokesman for the Egyptian Foreign Ministry, said Mohamed al-Gharawy, assistant administrative attache at the embassy in Khartoum, was killed "on his way to the embassy to follow up on the evacuation of Egyptian citizens." The RSF denied SAF's claim that it was responsible for the his death.
You can share this story on social media: