African country may use Russian payment system – envoy
Authorities in DR Congo are considering the move due to difficulties in settlements with Moscow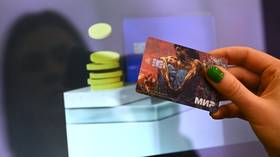 The Democratic Republic of the Congo may start using the Mir payment system, Russia's alternative to Visa and Mastercard, to facilitate transactions with Russian partners, Congolese ambassador to Moscow, Ivan Vangu Ngimbi, told RIA Novosti news agency on Friday.
According to the envoy, the idea of using Mir was pitched by a Russian private bank after it faced problems with money transfers to DR Congo due to Western economic sanctions placed on Russia in connection with its military operation in Ukraine.
"We have forwarded this proposal to the Congolese government, which is discussing this issue with the Central Bank and the authorities concerned," Ngimbi said. He did not mention when a decision is expected.
The diplomat noted that the DR Congo embassy in Russia is itself facing difficulties with banking operations due to anti-Russia sanctions and cannot receive funds to pay the salaries to mission staff. Many Congolese families are also troubled by the current state of affairs, as they are unable to send money to their children who are studying in Russia.
Russia stepped up the use of its domestic payment system last year, when Moscow was hit by sanctions in response to its military operation in Ukraine, including the blocking of a number of Russian banks from the SWIFT payment system and the exit of Visa and Mastercard from the country.
Outside Russia, Mir cards are currently accepted in eight countries, including the states of the Eurasian Economic Union (EAEU) and Cuba, which started accepting the Russian payment cards in March this year. Another 15 countries have reportedly expressed interest in allowing Mir cards on their soil.
For more stories on economy & finance visit RT's business section
You can share this story on social media: