Russia does not double-deal – Malian PM
Moscow respects the African nation and is a reliable partner, Choguel Kokalla Maiga said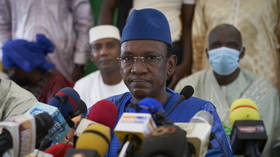 Russia has helped to turn the tide in Mali's fight against terrorism and has proven that it does not have ulterior motives in its involvement, the African nation's acting prime minister has said.
"The terror has moved to the other camp. Terrorists no longer instill fear in Malians. On the contrary, the Malian Army scares the terrorists," Choguel Kokalla Maiga told RIA Novosti.
He credited Russian military assistance for this change in the interview published on Tuesday, and praised Moscow's approach in dealing with his government. Russia "is a reliable partner and does not double-deal," he said.
Its assistance is not limited to military hardware, Maiga stated. Russian supplies of food, fertilizers and energy to Mali are growing, and the two governments are working on boosting trade further. Moscow has also offered a 20% discount on market price for some key products, he added.
"We don't want to be hostage to other states, who would decide whether or not to deliver fuel to our nation and whether or not there would be food on Malians' tables," he said.
The prime minister also rebuked the EU for its attitude towards his country, reiterating his criticism of European Council President Charles Michel. In an interview with the French media earlier this month, Michel accused Mali's transitional authorities of breaking with "traditional partners, and particularly with European partners," and claimed that "the consequence is a state that is collapsing." Bamako dismissed the remarks as part of a "disinformation campaign."
Maiga noted that politicians in Europe tended to make "really laughable statements to the media," and that his government was not limited in terms of foreign partnerships.
"Those who want to cooperate with Mali should take a note from Russia and respect our principles," he suggested.
He also reiterated an assessment by his foreign minister that the EU "was to be blamed for the destruction of Libya, which was the major cause of the escalation of terrorism in Africa," particularly in the region of Sahel.
France and the UK were the primary drivers behind NATO's 2011 bombing campaign, which ousted Libyan leader Muammar Gaddafi. Militias and arms smugglers looted the national military's weapons depots amid the conflict. Libya remains fractured more than a decade later.
You can share this story on social media: