Humanitarian crisis looming – climate watchdog
Experts expect below-normal rainfall in the coming months in already drought-stricken parts of the Greater Horn of Africa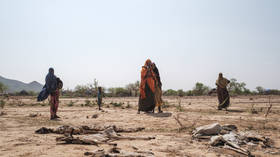 Large swathes of the Greater Horn of Africa region will not likely see much rain until June, the IGAD Climate Prediction and Applications Center has warned. The organization says that countries such as Ethiopia, Kenya, Somalia, and Uganda may be on course to experience a drought more severe than that of 2010 to 2012, which claimed hundreds of thousands of lives.
The IGAD regional bloc issued the alarming forecast on Wednesday, saying in a statement that "in parts of Ethiopia, Kenya, Somalia, and Uganda that have been most affected by the recent drought, this could be the 6th failed consecutive rainfall season."
Rwanda, Burundi, eastern Tanzania, and western South Sudan are likely to face similar adverse weather conditions in parts, they added.
With the March-May period contributing up to 60% of the total annual rainfall in parts of the Greater Horn of Africa, "the current trends are worse than those observed during the drought of 2010-2011," the weather monitoring organization said.
The Food Security and Nutrition Working Group (FSNWG), co-chaired by IGAD, and the UN's Food and Agriculture Organization, estimated that approximately 23 million people are currently facing severe food shortages in Ethiopia, Kenya, and Somalia. They added that any changes for the better in the weather during the early summer will have a delayed effect on food security in the region.
IGAD's executive secretary, Dr. Workneh Gebeyehu, called for an "immediate scaling-up of humanitarian and risk reduction efforts." He urged national governments, as well as humanitarian and development organizations, to "adopt a no-regret approach before it's too late."
Mohammed Mukhier of the International Federation of Red Cross and Red Crescent Societies (IFRC) for Africa expressed concern that the expected drought could further exacerbate "humanitarian challenges in the region, including the ongoing hunger crisis, the impacts of COVID-19 and internal displacement."
According to UN estimates, 260,000 people, half of them children under five, died of drought-induced starvation in Somalia alone between October 2010 and April 2012.

Speaking in 2013, the UN humanitarian coordinator for Somalia, Philippe Lazzarini, argued that a lack of early action despite indications of a looming drought was in part to blame for the massive death toll.
You can share this story on social media: