Africa 'underfunded' while Kiev attracts donors – Red Cross
The aid group's director-general has called it "ironic" that poorer countries are having trouble receiving enough aid during the Ukraine conflict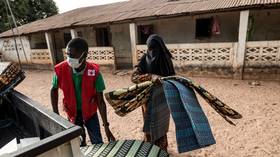 Humanitarian efforts in the poorer regions of the world remain underfunded, while Ukraine enjoys steady support from donors, the International Committee of the Red Cross (ICRC) Director-General Robert Mardini said on Wednesday.
"I want to emphasize that there is not enough funding for the vast majority of humanitarian bodies, including those operating in Africa," Mardini told Russian news agency RIA Novosti on the sidelines of a humanitarian forum in Riyadh, Saudi Arabia.
"Countries such as Afghanistan and Myanmar are among those that the ICRC doesn't have sufficient funding for. Latin America is also among such regions."
[It's] ironic that humanitarian activities in Ukraine are well-supported by donors, but the downside is that the rest of the world is faced with underfunding.
"It's the reality of the ICRC," Mardini said, adding that it was also true for UN agencies and other international humanitarian groups.
The ICRC has been working in Ukraine since 2014 when hostilities broke out between the national government and the Donetsk and Lugansk People's Republics. The two Donbass republics seceded from Ukraine shortly after the Western-backed coup in Kiev that year. Last year, both voted to join Russia, together with two other former Ukrainian territories.
In his annual speech to the Federal Assembly on Tuesday, Russian President Vladimir President claimed that the West was spending more money on military and other aid for Ukraine than on helping underdeveloped countries. "They have provided more than $150 billion to abet and arm Kiev," Putin said. "For comparison: according to the data from the Organisation for Economic Co-operation and Development, G7 countries have spent around $60 billion to help the world's poorest countries between 2020 and 2021."
In November, the European Commission proposed a "highly concessional" loan package worth up to €18 billion ($19.2 billion) to support the Ukrainian economy throughout 2023.
You can share this story on social media: