'NEWS WITH ED SCHULTZ': VETERAN JOURNALIST ED SCHULTZ TO HOST PRIMETIME SHOW ON RT AMERICA
WASHINGTON, DC, JANUARY 14, 2016 — Progressive political journalist Ed Schultz is joining RT America, beginning January 25, 2016, to host his new primetime news program, 'NEWS WITH ED SCHULTZ' at 8pm EST weeknights. On his new show, Schultz will focus on exploring issues that most affect working Americans, particularly within the context of the upcoming US presidential election.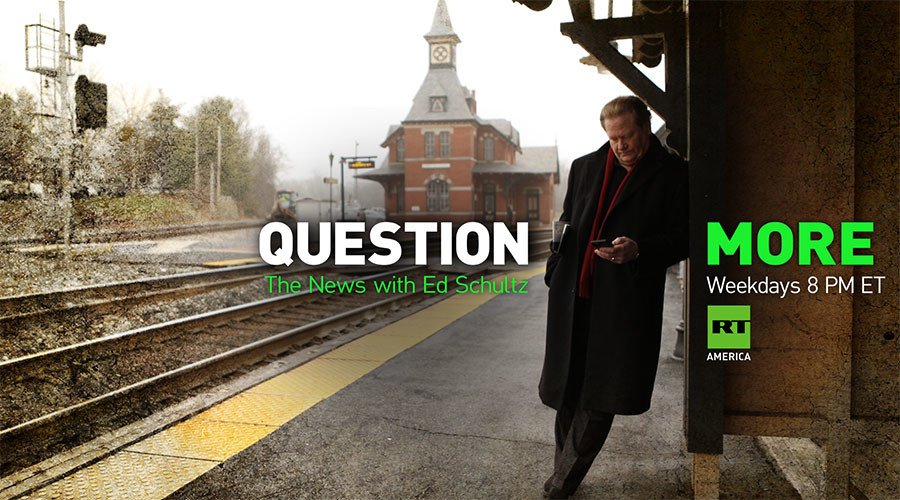 "Ed Schultz is one of the best-known and well-respected progressive commentators in America," said Margarita Simonyan, RT's Editor-in-Chief. "With Ed helming a show, we are continuing the tradition of collaborating with top international journalistic talent that engages our audience by providing in-depth coverage, analysis and commentary on important but underreported issues to millions of US viewers."
"I am very excited to be joining RT," said Ed Schultz. "The network is firmly established outside of US corporate media and is not afraid to give a platform to diverse voices, stories and perspectives to its viewers, even if it ruffles some mainstream feathers. I can't think of a better fit than a news broadcaster that bullishly pursues issues that matter to hardworking Americans." Schultz's broadcasting career spans more than two decades. Until recently, he hosted "The Ed Show" on MSNBC; the program was consistently the second-highest rated show on the channel.
Schultz has won three Eric Sevareid Awards, managed a broadcast team that won two Marconi Radio Awards and a Peabody Award, and has been named one of the top 10 radio hosts in the country by Talkers Magazine for several years. He will work out of the RT America studios in Washington, DC.
Schultz is a graduate of Minnesota State University Moorhead, where he achieved All-American status and led the nation in passing as a football quarterback.
ABOUT RT
RT is a global TV news network that broadcasts 24/7 in English, Arabic and Spanish from its studios in Moscow, Washington DC and London. It is available to 700 million viewers worldwide. RT is the most watched TV news network on YouTube with more than 3 billion views. RT America is the proud home of political shows including "Politicking with Larry King," "The Big Picture" with Thom Hartmann and "Off The Grid" with former governor of Minnesota Jesse Ventura. The financial show, "Boom Bust" with Ameera David and Ed Harrison, breaks through the mainstream headlines and navigates the complex stories that matter most. "Watching the Hawks" with Sean Stone, Tyrel Ventura and Tabetha Wallace, and "Redacted Tonight" with sharp-shooting political satirist Lee Camp, provide radical, alternative views to those in the mainstream.
You can share this story on social media: