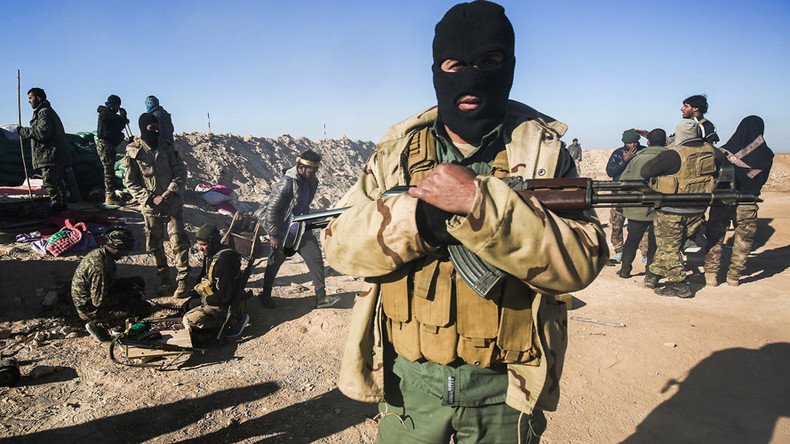 A masked fighter of the Hashed al-Shaabi (Popular Mobilisation) paramilitaries © AHMAD AL-RUBAYE
AFP
Mass grave of hundreds discovered in prison retaken from ISIS, Iraqi militias say
A mass grave containing the remains of hundreds of people was found at Badush prison near Mosul after it was retaken from Islamic State, Iraqi paramilitary forces said.
The discovery was made by the Hashed al-Shaabi pro-government group, which was among the units to retake control of the prison from Islamic State (IS, formerly ISIS/ISIL) on Wednesday.
"A large mass grave containing the remains of around 500 civilian prisoners in [Badush] prison who were executed by [IS] gangs after they controlled the prison during their occupation of Mosul" was found by Hashed forces, the military said, as cited by AFP.
The numbers provided by the militia couldn't be independently verified, but they coincide with earlier reports of atrocities committed by the jihadists at Badush.
According to Human Rights Watch, IS executed 600 inmates not far from the prison on June 10, 2014. The victims were forced to kneel in front of a ravine and shot in the backs with machineguns.
"Such cold-blooded, systematic and intentional killings of civilians, after singling them out for their religious affiliation, may amount to war crimes and crimes against humanity," HRW said back then.
In 2014, Iraqi lawmaker, Vian Dakhil, also said that Islamic State were holding over 500 women from the Yazidi religious minority at Badush prison.
IS, which accused Yazidis of being "devil worshipers," has been targeting the group, executing men and turning women into sex slaves.
The jihadists have taken control of the Badush prison in mid-2014 after an offensive, which saw them claiming large areas north and west of the Iraqi capital, Baghdad.
READ MORE: Intl monitoring body & West ignoring reports of 'chemical attack' in Mosul – Russian MoD
Since then, the terrorists have lost control of those territories, with Iraqi forces, backed by the US-led coalition, launching an operation against IS's last stronghold in the country, Mosul, in October 2016.
In late February, the largest mass grave of Islamic State's victims was discovered in the Khasfa sinkhole desert eight kilometers from Mosul.
It contained the bodies of 4,000 people, mainly Iraqi troops, who were executed by the jihadists, the Daily Mail reported.
RED MORE: 'Numbers increasing sharply': Urgent construction of new Mosul camp as thousands continue to flee
Last November, HRW spoke of on another mass gave found near the town of Hammam al-Alil, where the bodies of 300 members of the Iraqi security forces executed by IS were buried.