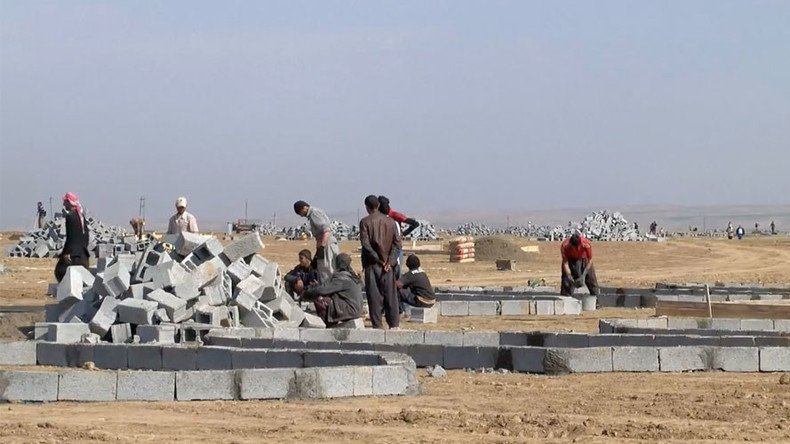 'Numbers increasing sharply': Urgent construction of new Mosul camp as thousands continue to flee
Construction of a new camp for displayed persons is underway near Mosul, after a facility south of the Iraqi city reached maximum capacity. Thousands of civilians are fleeing western Mosul as the Iraqi Army continues its battle against Islamic State.
Mohamed Nazir, a construction worker at the new Hamam Alil 2 camp for internally displaced persons (IDPs), says the number of refugees is growing daily.
"Last night we received 14,000 people, and the number is increasing sharply," he said, as quoted by RT's Ruptly news agency. "The top number of tents for this camp is 4,700, but it can accept more than 20,000 people."
Sajeda Jeboury, camp manager at Hamam al-Alil, highlighted the dire state of health services in the camp south of Mosul.
"We don't have a division or a fully functional hospital that would be able to contain such large numbers," she said. "We have injuries, chronic diseases, cancer cases, disabled people, and senior citizens."
Many families are being transferred from the overcrowded Hamam al-Alil facility to other IDP camps around the embattled Mosul.
READ MORE: 'Deep injustice': Mosul refugees to RT on surviving ISIS & US-led coalition airstrikes (EXCLUSIVE)
One woman staying at the camp is baking bread in an effort to make some money as she awaits her fate as a displaced Iraqi citizen.
"Daesh [Arabic acronym for Islamic State/IS] invaded us, the army came and liberated us, and we came here," said Doha Mohamad, a housewife who fled western Mosul with her family.
Thousands of civilians are living in an ongoing nightmare, caught in the crossfire between terrorists and the US-led coalition. Asked who was to blame, a man lying on a bed at the Rojava hospital in Erbil told RT's Murad Gazdiev: "It was the [US-led] air force. It was jets."
Refugees at the Hazar refugee camp near Erbil, northern Iraq, told RT they saw bombs falling on them and had to run for six hours until they finally reached safety.
"I saw it with my own eyes: The planes that were targeting Islamic State destroyed civilians' houses and killed five people. The children were scared to death from hearing bombs exploding. They are traumatized," one woman said.
"We witnessed brutal fighting and the airstrikes hitting civilians, killing many people," another added.
More than 200,000 refugees have fled Mosul since last October, according to the International Organization for Migration, which calculated the staggering figure using its complex Displacement Tracking Matrix.
"Forty-five thousand people have left their houses in the last nine days. The numbers are expected to increase – there is huge concern for them. All organizations are working overtime to expand the available camps, and to build new ones," Hala Jaber, a spokesperson for the International Organization for Migration, told RT on Sunday. More than half of those who have fled are children and the majority of the rest are women.
The US-backed offensive against Islamic State in western Mosul could displace up to 400,000 civilians, Lise Grande, the United Nations' Humanitarian Coordinator for Iraq, told Reuters in late February.
"We believe there are around 750,000 people, with more than 300,000 children [among them] inside west Mosul, and we believe half of that number of people would flee," the UNICEF regional emergency coordinator in Iraq, Bastien Vigneau, told RT last month.
"There is no water, no food, no bread. Nothing," one displaced man from Mosul told RT.
"We left our house, our cars, everything we owned, we took nothing but our clothes. We are scared, tired and hungry. My situation speaks for itself," another added.


Since October 2016, Mosul has been besieged by Iraqi troops, backed by Kurdish Peshmerga forces, Shiite militias and the US-led coalition, trying to drive Islamic State out of the city. Prior to its capture in 2014, Mosul was Iraq's second-biggest city, but has since been a stronghold of IS militants and one of their key bases of operations outside Syria.
In January, the eastern half of Mosul was recaptured and operations to liberate the western side are ongoing. On Wednesday morning, local media reported the Iraqi Army and Shiite militia groups had captured the Mosul-Kasik road leading westward toward the town of Tal Afar, an IS stronghold.
READ MORE: 'ISIS cut heads, break legs & provoke airstrikes': Refugees describe Mosul terror (RT EXCLUSIVE)