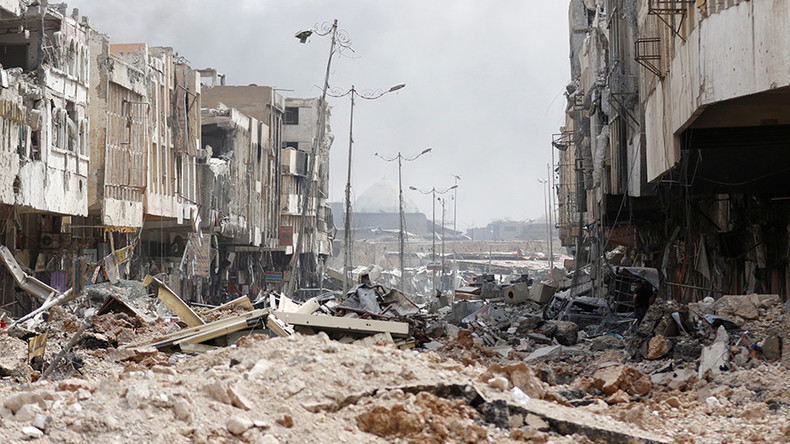 Destroyed buildings from clashes are seen during fighting between Iraqi forces and Islamic State militants in the Old City of Mosul, Iraq July 7, 2017 © Ahmed Saad
Reuters
ISIS vows fight to death as Iraqi military says Mosul just 'meters' from imminent liberation
Islamic State terrorists have vowed to "fight to the death" and are using civilians as human shields in Mosul as Iraqi forces make a final push to retake Iraq's second-largest city. The US coalition said victory in Mosul is now "imminent."
"The battle has reached the phase of chasing the insurgents in remaining blocks," the Iraqi military media office said in a statement, Reuters reports. "Some members of Daesh have surrendered."
READ MORE: Up to 20,000 Mosul civilians facing 'extreme danger' as battle against ISIS continues – UN official
"Our units are still continuing to advance... Not much is left before our forces reach the [Tigris] river," where ISIS still controls the riverside district of al Maydan, the Joint Operations Command said Saturday, according to AP.
WARNING GRAPHIC FOOTAGE!
While some of the Iraqi forces are already celebrating their victory over Islamic State (IS, formerly ISIS/ISIL), jihadist fighters, who control a territory less than one square kilometer have vowed to hold on to it or die fighting for Mosul's Old City.
Islamist fighters "were holding onto their fortified positions," the jihadists' Amaq news agency reported, as cited by Reuters. "The fighters of Islamic State are collectively pledging (to fight to the) death in Maydan."
Iraqi troops, backed by US-led coalition airstrikes and Shia and Kurdish militias, have liberated the whole eastern side of Mosul in a six-month offensive that began in October.
But securing the west of the city, in particular, the Old City, where the militants are currently holed up, has proved a challenge and an increasingly deadly operation, as firmly-entrenched militants have put up fierce resistance through booby traps, sniper fire and mortar shells filled with toxic gas.
The militants also continue to use civilians as human shields as they try to hang on to the last bits of turf, enlisting all of their family members to battle the Iraqi forces.
"The women are fighting with their children right beside them," Lt. Gen. Sami al-Aridi was quoted as saying by AP earlier this week. "It's making us hesitant to use airstrikes, to advance. If it weren't for this we could be finished in just a few hours."
Mosul's liberation was "imminent," Brig Gen Robert Sofge said Saturday, refusing to elaborate only saying that "it's going to be very soon."
Throughout the course of the campaign, human rights groups have repeatedly accused the US-led coalition of indiscriminately bombarding the civilian population in Mosul. On Friday, the US military officially confirmed a total of 603 civilian deaths in the US-led air campaign in Iraq and Syria, although independent research and human rights group estimate the figures to be significantly higher.