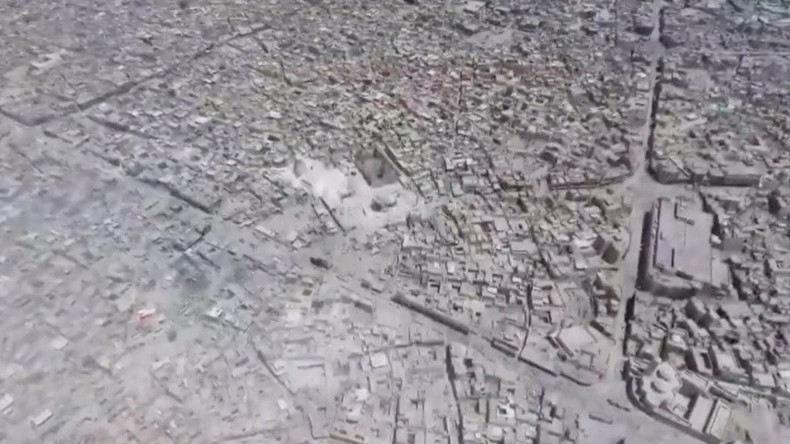 Ruins of Great al-Nuri Mosque captured by drone in devastated Old Mosul (VIDEO)
New drone footage from ravaged Old Mosul has depicted the extent of air and artillery strike damage that has been inflicted on Iraqi's second largest city. Amid the rubble and the ruin, the video captured the site where the Great Mosque of al-Nuri once stood.
Surrounded by scenes of devastation and rising smoke, the drone hovering in mid-air captured the site where, until recently, Mosul's Great al-Nuri Mosque dominated the city skyline for over eight centuries.
Consecrated in the year 1172, the mosque had served as a religious center for centuries until Islamic State (IS, formerly ISIS/ISIL) forces destroyed the famous leaning al-Hadba Minaret along with the entire structure Wednesday, just as Iraqi troops edged to within 50 meters of the site.
READ MORE: ISIS blows up landmark Grand al-Nuri mosque with leaning minaret in Mosul - Iraqi military
While the terrorists blamed US-led airstrikes for the destruction of the ancient religious landmark, the US Central Command pinned the responsibility solely on IS. Later the Iraqi military released footage of the detonation of the mosque.
The Iraqi prime minister said the destruction of the religious site, where IS leader Abu Bakr al-Baghdadi had proclaimed the establishment of a caliphate across Iraq and Syria in 2014, signals the imminent defeat of Islamic State.
READ MORE: ISIS leader al-Baghdadi 'highly likely' eliminated – Russian Foreign Ministry
"Daesh's bombing of the al-Hadba Minaret and the al-Nuri mosque is a formal declaration of their defeat," Haider al-Abadi said, according to the Telegraph.
READ MORE: US-led coalition admits use of white phosphorus in Mosul amid mounting criticism
The demolition of the mosque follows reports that al-Baghdadi himself was "highly likely" killed by a Russian strike in the suburb of Syrian Raqqa in May.
While a significant number of Islamic State fighters has fled Mosul, the US-led coalition continues to strike the Western section of the heavily populated urban area, where Iraqi forces are struggling to advance while engaged in narrow street combat.
READ MORE: 'Excessive risk': Leading NGOs unite to criticize Mosul bombing campaign
As US-led strikes continue, residents fleeing from the city continue to share stories of indiscriminate bombardment. An estimated 100,000 civilians are still trapped in the Old City as Iraqi forces make their final push to recapture the former ISIS citadel.
The final and "total liberation of Mosul," Iraq's Prime Minister said Thursday, was a matter of just a "few days."