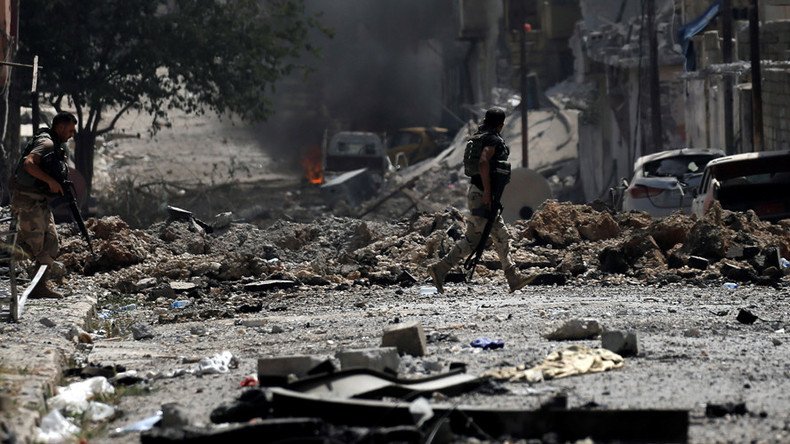 © Alkis Konstantinidis
Reuters
'Excessive risk': Leading NGOs unite to criticize Mosul bombing campaign
Human Rights Watch, Amnesty International, War Child and other advocacy groups have banded together to condemn the use of "inherently indiscriminate weapons" during the campaign to retake Mosul from Islamic State (IS, formerly ISIS/ISIL).
"The United Nations has estimated that 200,000 civilians remain in the two-square-kilometer area in west Mosul's Old City, which Iraqi and US-led coalition forces are encircling in preparation for the battle there," said a joint statement from the six prominent NGOs.
"All warring parties should cease using explosive weapons with wide area effects and inherently indiscriminate weapons in densely populated west Mosul. ISIS's unlawful use of civilians as 'human shields' and the difficulty of identifying civilians in buildings increases the risk of civilian casualties."
Iraqi forces, with air support provided by the US-led coalition, has been engaged in fierce urban combat, trying to wrestle Iraq's second city back from the jihadists since October last year.
The remaining Islamic State forces, who Iraqis believe are readying to die in battle, are housed in fortified positions in the densely-built western side of the city, where civilian houses have been booby-trapped and turned into passage ways for the jihadists.
"Thousands of families are trapped by ISIS in west Mosul, with its fighters preventing civilians from fleeing to safety," said Lama Fakih, deputy Middle East director at Human Rights Watch.
"Iraqi and coalition forces should recognize that in the crowded Old City, using explosive weapons with wide area effects puts civilians at excessive risk."
The statement was published the same day the UN said up to 80 civilians were killed in one strike on May 31.
The coalition says 484 civilians have been confirmed as accidental airstrike victims since the campaign began, but Airways, one of signatories of the open letter, estimates the death toll to be at nearly 4,000.
"Rising civilian casualties from aerial operations have heightened concerns regarding coalition and Iraqi forces use of airstrikes. The use of explosive weapons with wide-area effects such as air-dropped bombs of 500lbs and above, which have been used in the context of the operation, in densely populated civilian areas of western Mosul may be resulting in civilian casualties and damage to civilian objects that is excessive to the anticipated military objectives of the strikes," said the NGOs.
"Such disproportionate military attacks are prohibited under international humanitarian law."
But there is also urgency in completing the capture of the city, which has been under ISIS' yoke since 2014, and where civilians are suffering the most.
The UN said at least 231 civilians have been shot by Islamic State as they attempted to flee the city, but the scale of the humanitarian catastrophe will not likely be known until the city is clear.
"Those fleeing Mosul have told humanitarian and human rights organizations that markets are being emptied of food, with civilians subsisting on little more than wheat and rainwater," reported the NGOs.
In a summary of their recommendations, apart from reducing the number of airstrikes, the six advocacy groups urged less use of Improvised Rocket-Assisted Munitions (IRAMs), mortars, and multi-barrel rocket launchers.