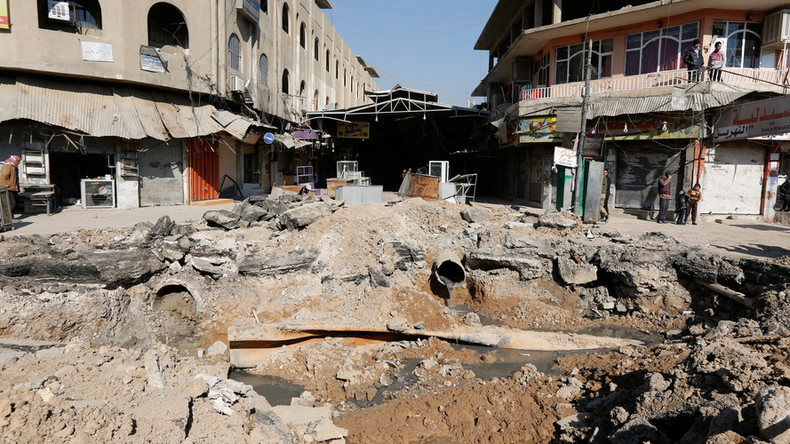 FILE PHOTO: A crater made by an airstrike against Islamic State militants, Mosul, Iraq. © Ahmed Saad
Reuters
Civilian death toll from coalition airstrikes in Iraq and Syria rises to 352 – Pentagon
Operation Inherent Resolve, the US-led campaign aimed at defeating Islamic State, has confirmed that 45 civilians have been killed by its airstrikes since November last year. It has also upped its total civilian death toll to 352, though observers say actual figures are a magnitude higher.
"It is more likely than not, at least 352 civilians have been unintentionally killed by Coalition strikes since the start of Operation Inherent Resolve," said a statement from the operation's Combined Joint Task Force (CJTF-OIR), which analyzes each reported incident, and counts those where civilian deaths seemed "likely."
"We regret the unintentional loss of civilian lives resulting from Coalition efforts to defeat ISIS in Iraq and Syria and express our deepest sympathies to the families and others affected by these strikes," it added.
The coalition claims that between August 2014 and March 31, 2017 the bombing campaign comprised 20,205 air strikes that could be broken down into 42,089 separate engagements.
CJTF-OIR states that fewer than 1 percent of all engagements provoked complaints of civilians casualties, and 0.24 percent have produced "credible" casualty reports.
"Although the Coalition takes extraordinary efforts to strike military targets in a manner that minimizes the risk of civilian casualties, in some incidents casualties are unavoidable," said the statement.
The reported period involved some of the most intense bombing campaigns since the start of the conflict, as the Coalition, which consists of most European and Middle Eastern states, has helped the Iraqi army advance on Islamic State's Mosul stronghold, where hundreds of thousands of civilians have been trapped.
In late March there were claims from local reports that over 200 civilians perished as a result of airstrikes on areas where Islamic State used the population as human shields.
While almost the entirety of the addition to the death toll comes from the city, the worst listed new incident is the accidental targeting of a parked car bomb that resulted in the deaths of 14 civilians on March 1.
The Pentagon says that it is looking into a further 42 incidents by using "traditional investigative methods" such as site inspections, and pilot interviews, but also "analyzes information provided by government agencies, non-governmental organizations, partner forces and traditional and social media."
According to Airwars, a UK-based charity-funded NGO, which conducts its own detailed reviews of strike reports, the figures produced by the CJTF-OIR are consistently conservative. The organization says that at least 3,164 civilians have been killed by the Coalition, with deaths spiking to their worst levels ever in the past two months.