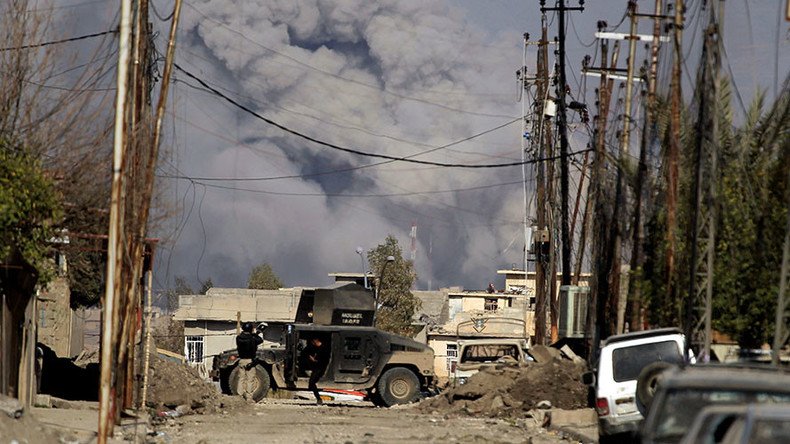 FILE PHOTO © Zohra Bensemra
Reuters
'Worse number of airstrike casualties in Mosul than during Aleppo, media fails to cover' – monitor
The number of civilian casualties from airstrikes by the US-led coalition in the Iraqi city of Mosul exceeds the numbers reported by the media during the operation to retake Aleppo by Syrian and Russian forces, the London-based Airwars monitoring group has said.
"Since the assault, first on east Mosul and then west Mosul began, we have seen just a remarkable change at Mosul, moving from tens of civilians reported killed every week or even every month, to hundreds reported killed every week now by coalition airstrikes," Chris Woods, Airwars director, told RT's Ruptly video agency.
Reports of civilian casualties have been tracked on a daily basis in Mosul since November, when Iraqi forces, supported by the US-led coalition, launched an operation against Islamic State (IS, formerly ISIS/ISIL) he said.
"We're past the point of individual events standing out for us anymore – there's two, three, four, five alleged incidents every day. Our researchers are having trouble just keeping up with the allegations at the moment. The intensity is so high," Woods said.
"By the way, we're seeing a similar number of high incidents across the border around Raqqa (IS's last stronghold in Syria) at the moment which is almost completely unreported," he added.
According to the Airwars director, the number of reported civilian casualties in Mosul exceeds those in Aleppo, which was liberated from terrorists by the Syrian military, with the backing of Russian Airspace Forces.
"We're seeing worse numbers now in Mosul than we did during Aleppo. There was a report in the British Daily Telegraph over the weekend saying [that] 300 civilians died in just two neighborhoods of Mosul in a 24 hour period as a result of airstrikes," he said.
The Aleppo operation was extensively covered by the mainstream media, which blamed Damascus and Moscow of killing innocent civilians and war crimes.
"We didn't see that level of death in Aleppo, yet we did during, the final stages of Aleppo – in fact all through the Aleppo siege – we saw significant international media coverage. So why is there this difference? Why does [the] international media not want to engage on civilian casualties in Mosul?" Woods pointedly asked.
READ MORE: 'Numbers increasing sharply': Urgent construction of new Mosul camp as thousands continue to flee
Wood's said that "if we really are seeing the worst civilian deaths now of the entire war that's something that should be publically reflected, but also if we don't report those deaths, that's dangerous, because then you get someone like Trump coming along who thinks that he can order more airstrikes and order more risk to civilians because everyone around him is telling him that civilians aren't dying."
READ MORE: 'Deep injustice': Mosul refugees to RT on surviving ISIS & US-led coalition airstrikes (EXCLUSIVE)
The military operation in Mosul has led to a humanitarian crisis in Iraq's second biggest city, with people already suffering by the fighting and now without food, water, and electricity. More than 200,000 refugees have fled the city since last October, according to the International Organization for Migration.