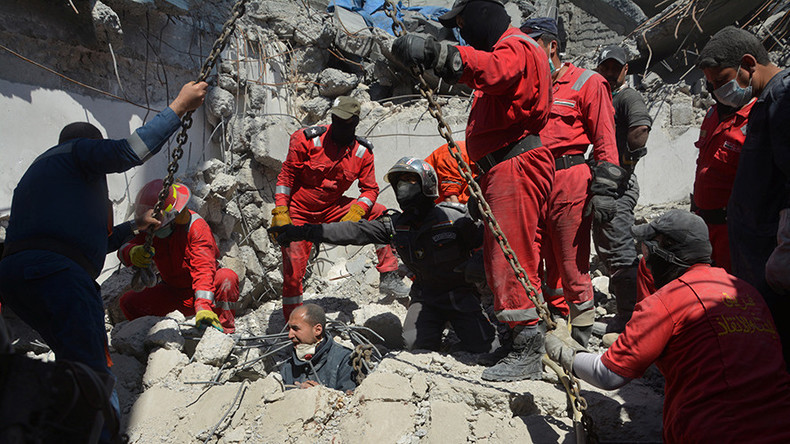 Firefighters look for bodies of civilians after an air strike in Mosul, Iraq March 27, 2017 © Stringer
Reuters
307 civilians killed, 273 wounded in western Mosul since February 17 – UN human rights chief
UN Human Rights chief Zeid Ra'ad al-Hussein has condemned the "massive loss of civilian lives in western Mosul," where at least 307 people have been killed and 273 wounded in just over a month.
Hussein stated that Iraqi and coalition forces "really need to take care in this situation," adding that Islamic State (IS, formerly ISIS/ISIL) is herding civilians into booby-trapped buildings in western Mosul, using them as human shields, and firing at those who flee.
"This is an enemy that ruthlessly exploits civilians to serve its own ends, and clearly has not even the faintest qualm about deliberately placing them in danger," he said in a statement, as quoted by Reuters.
"It is vital that the Iraqi Security Forces and their Coalition partners avoid this trap," Hussein added, while calling for them to conduct "thorough and transparent" investigations into civilian deaths.
It comes just one day after Washington confirmed it will not be altering its rules of engagement in the war against IS, even as US-led coalition forces face allegations of killing dozens of civilians in a recent airstrike in Mosul.
If the allegations prove true, it would represent one of the deadliest single incidents involving civilian casualties in a recent conflict in which the US military was actively involved.
Some 400,000 civilians are still trapped in the Old City of Mosul, which is held by IS militants. They are facing food and electricity shortages, a representative of the UN High Commissioner for Refugees (UNHCR) in Iraq earlier told Reuters, adding that between 8,000 and 12,000 people flee the city daily.
The US insists that no more than 200 civilians have been killed in coalition airstrikes in Mosul, but the UK-based monitoring group Airwars says the number could be more than 10 times higher.
READ MORE: Civilian deaths in Mosul are miscalculations & mistakes – Iraqi President
The UN also said last week that it was "profoundly concerned by the reports... of a high number of civilian casualties in al-Jadida in Iraq, a densely-populated neighborhood in Mosul. Initial reports indicate hundreds of casualties."
US could have a role in Mosul blast that killed dozens of civilians — US General
The most senior US commander in Iraq has said that the US-led coalition could have played a role in an incident that occurred in western Mosul on March 17 when dozens of civilians died in what is suspected to be an airstrike hitting a residential building.
"My initial assessment is that we probably had a role in these casualties," Lieutenant General Steve Townsend told a Pentagon news briefing, speaking from Iraq, as cited by Reuters. He also said the civilians could have been deliberately gathered in the building by Islamic State militants.
"My initial impression is the enemy had a hand in this. And there's also a fair chance that our strike had some role in it," Townsend, who commands the Combined Joint Task Force – Operation Inherent Resolve (CJTF–OIR) said. "I think it's probably going to play out to be some sort of combination. But you know what, I can't really say for sure and we just have to let the investigation play out."
On March 25, the CJTF–OIR issued a statement, in which it admitted that the US-led coalition did carry out an airstrike targeting the area at the request of the Iraqi forces around the time when the incident happened. However, it also said that it is still unclear whether this strike has anything to do with the civilian casualties.
The Iraqi War Media Cell has meanwhile issued its own statement concerning the incident, in which it said the building was likely blown up by Islamic State terrorists' booby traps and had not been targeted by a coalition airstrike.
Earlier, the UN already expressed its "profound concern" over the "high number of civilian casualties in al-Jadida in Iraq" — the district allegedly hit by the coalition airstrike on March 17.
The US-led coalition has since "opened a formal civilian casualty credibility assessment on this allegation."