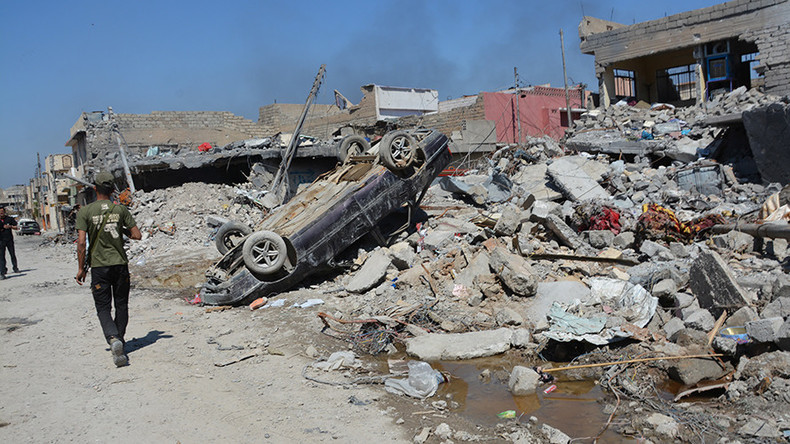 Mosul, Iraq March 27, 2017 © Stringer
Reuters
Civilian deaths in Mosul are miscalculations & mistakes – Iraqi President
Though civilians are being killed in Mosul as Iraqi special forces supported by US-led airstrikes retake the city from jihadists, Iraq's president explained in an interview that those deaths are the result of "miscalculations" and "unintended mistakes."
"There is coordination between the US coalition and Iraqi security forces, but sometimes it fails. Even after American troops arrived on the ground in Iraq, an incident happened where a group of Peshmerga fighters was killed and their commander survived, but can no longer walk or speak. It was reportedly friendly fire," Fuad Masum told RIA Novosti.
"For instance, in the old city there are no proper streets, only paths maybe two meters wide or less. Armor cannot go there and neither can cars. And IS is using this terrain, using people as a human shield," he explained, adding that the terrorists "fire at planes from rooftops and their snipers shoot at Iraqi troops from there. And if we hit them with airstrikes, many people would die."
Mosul's civilian infrastructure has been devastated in the fighting, and billions of dollars will be needed to rebuild it, the country's president said.
"We cannot yet estimate how many billions of dollars will be necessary to rebuild this or that. If we started significantly rebuilding the city, enormous sums would be required, especially considering our reliance on oil and gas and the fact that their prices will not go up," Masum said.
"As for nations that could take part in it, we are opening hands to anyone, from America to Russia, to European nations in the East and in the West. We ask everyone for support, for help in overcoming this crisis," he added.
The Iraqi president said the intensive months-long offensive to retake Mosul has forced hundreds of thousands of residents to flee, leading to a humanitarian catastrophe.
"What is happening is definitely a humanitarian catastrophe. People who had stable lives three years ago, now have no roof to live under: they have become refugees living in tents," he said, adding that for Mosul to be retaken from the Islamic State (IS, formerly ISIS/ISIL) terrorist group, some human suffering is unavoidable.
The Iraqi president believes that IS will be ousted from Mosul in "a short period of time," though the group will likely remain in Iraq as a more traditional terrorist network carrying out occasional terrorist attacks.
Once the city is retaken, the Iraqi government will need to reintegrate those who supported the terrorists, but were not involved in any serious crimes, he said.
"National reconciliation is something everyone calls for, but we have not arrived at a starting point for that. Some people, for example, are calling for reconciliation between some groups in opposition to others. This poses certain problems," he acknowledged.
"We will see what happens after Mosul. Those who supported IS, but were not involved in killings, will be returning to their villages, neighborhoods, and towns. Those who fought against IS will be returning as well. There is a conflict. We will need to keep the situation under control to prevent strife after the displaced people come back," Masum added.