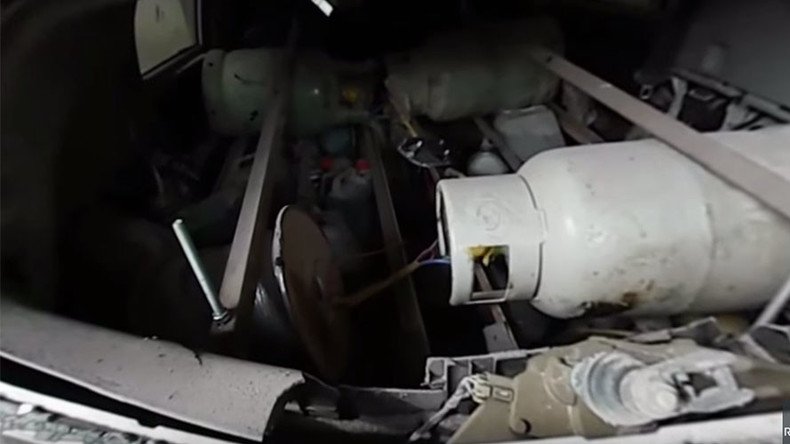 360° car bomb: Death machine filmed by RT Ruptly in bombed-out Mosul house (VIDEO)
RT's Ruptly crew has managed to capture close-up, 360-degree footage of an unexploded bomb-laden vehicle reinforced with improvised armor plates that seems to have miraculously survived an airstrike on a house in Mosul.
Improvised explosive devices (IEDs) and vehicle-borne improvised explosive devices (VBIED) have become the terrorists' weapon of choice in Iraq. News reports are abound with stories of tragic incidents of civilian casualties that have been caused by bomb-laden cars.
One of such VBIED, discovered in the al-Mamun district of Mosul on Sunday, was recorded by RT's Ruptly crew. Whatever the planned target of the VBIED, the airstrike that partially destroyed the house prevented the terrorists from carrying out their deadly plot.
The white 5-door KIA was seemingly ready for use, but was left in a house that is believed to have been hit by an airstrike. Carefully examining the car, still intact amid the rubble, the RT crew captured what looks like a large gas tank connected to some wiring.
The bomb component of a VBIED can be anything from homemade improvised explosives to sophisticated military-grade components. Using locally purchased wireless, battery-powered devices, such as car alarms or cell phones, the terrorists adapt them to remotely initiate a VBIEDs explosion.
While often using suicide bombers to guide a vehicle into a target, jihadists can also sometimes explode a better-disguised vehicle without the driver's knowledge.
In this case, however, the vehicle was clearly modified and reinforced with improvised armor apparently to withstand defensive fire while attacking Iraqi military targets.
READ MORE: Mosul family fleeing airstrike loses 10yo child to IED
Islamic State (IS, formerly ISIS/ISIL) terrorists are reportedly increasingly relying on car bombs, IEDs and using civilians as human shields, as the Iraqi army supported by US presses forward on Mosul. Despite assurances that everything is being done to prevent "collateral damage," residents are often caught in the crossfire.
While the US military says the total number of civilians killed by the coalition since the start of operations against ISIS in 2014 — in both Iraq and Syria — was 220 people, an independent monitor group, Airwars, estimates the death toll to be significantly higher.