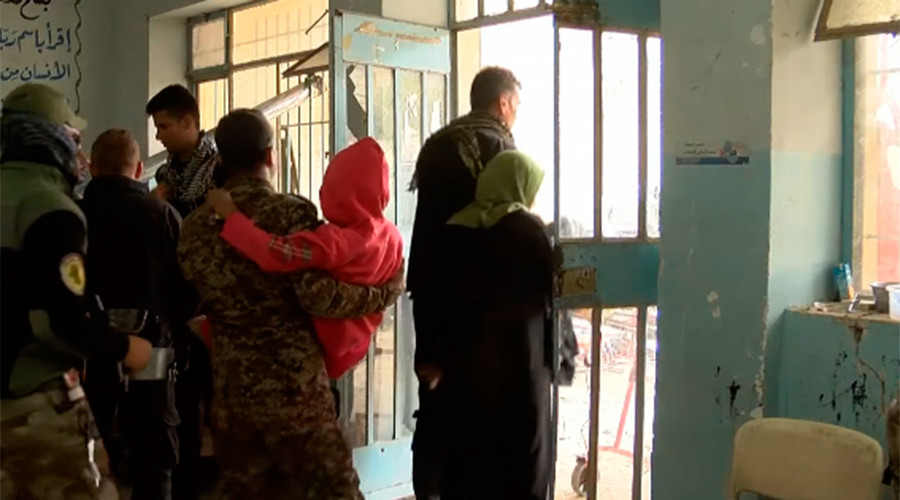 Mosul family fleeing airstrike loses 10yo child to IED
An Iraqi family from Mosul, one of hundreds caught in crossfire of the US-supported operation in the city, told Ruptly how a coalition airstrike forced them out of their home, only to face sniper fire and a fatal IED.
RT's Ruptly video agency caught up with Am Hamdan at the Iraqi Special Operations Forces 2 field hospital in western Mosul, where they arrived after fleeing the frontline. Their family was too afraid to stay after a coalition airstrike hit a house next to theirs, which was damaged in the blast.
"The concrete fell on us and we went out running to the main road. There was a sniper on top of a building on that road, I don't know if it was an IS sniper or an army sniper. He said 'go back' and he started shooting at us," she told Ruptly.
LIVE UPDATES: Death & destruction: Learn more about liberation of Mosul
The family hid at their cousin's home and early Sunday morning, decided to risk going to a safer area. That decision proved to be fatal.
"My husband crossed the road and the IED exploded, they were behind us, nothing happened to us, but they got hurt and my son died. Omar was 10 years old," Hamdan said. "My son was hit in the blast, both his legs and both his arms. This is what happened to us."
The three surviving members of the family were brought to the ISOF2 hospital and received medical treatment, according to Ruptly.
Their story is one of dozens that journalists have reported from Mosul, where civilians are caught in the crossfire of the Iraqi operation to capture the city from Islamic State (IS, formerly ISIS/ISIL) terrorists. Residents fall victim to both jihadists and coalition forces, despite assurances that everything is done to prevent "collateral damage."
This month, the US military said the total number of civilians killed by the coalition since the start of operations against ISIS in 2014 in both Iraq and Syria was 220.
'All of us were ISIS human shields': RT meets survivors of Mosul siege (EXCLUSIVE)
An independent monitor group, Airwars, estimates the death toll to be higher by an order of magnitude, saying at least 2,590 civilians have likely been killed by the coalition.
The UN estimates that more than 100,000 people have fled Mosul since the siege of the western part of the city began in mid-February, with 32,000 displaced between March 12 and 15, as the fighting intensifies.