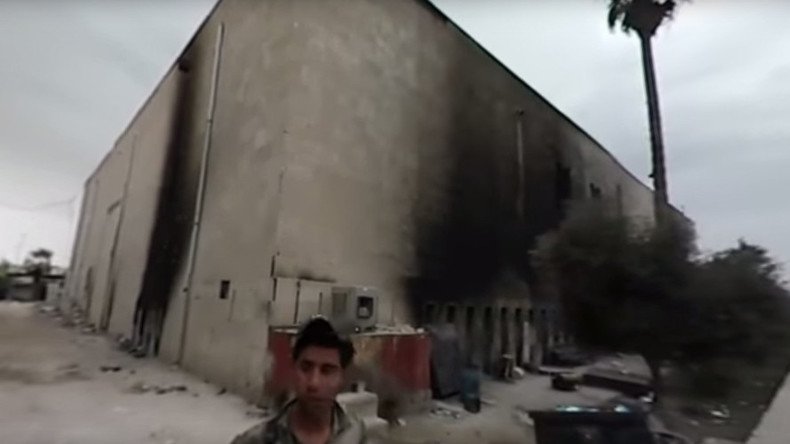 360° Mosul: Ruptly films destroyed museum while mortar rounds fall outside (EXCLUSIVE VIDEO)
RT's Ruptly video news agency was filming a 360 video from the destroyed antiquities museum in Mosul, recently retaken from Islamic State, when the footage was interrupted by mortar shelling outside. Check out what happened in the exclusive video filmed Monday.
It's dark in the museum, and people keep stepping on what sounds like the shards of glass. The antiquities museum in the Iraqi city of Mosul lies in ruins, with ash blanketing exhibition halls. The Mosul Museum was the second-largest museum in Iraq. However, what the video shows are empty and charred ruins, with rubble all over the place.
The Iraqi forces retook the building from Islamic State (IS, formerly ISIS/ISIL) a week ago, but the museum is still in the heart of a war zone, and the video confirms that: a blast rocks the building, with outgoing artillery rounds heard from inside the museum.
Most of the precious artifacts have been reported destroyed or missing from the museum, following two-and-a-half years at the hands of the terrorists.
In 2014, IS captured the museum, and declared that its artifacts breach the rules of Sharia law, and must be destroyed.
WATCH MORE: Mosul 360°: Rubble and ruins from Iraqi military op against ISIS
On February 26, 2015, the day after IS burnt books from Mosul libraries, the jihadists issued a video, which showed the destruction of the museum artifacts.
IS has been intentionally destroying historical sites all in Iraq and Syria for the past few years: among the latest atrocities was the destruction of the ancient Palmyra monuments and artifacts in Syria.
The operation to retake the western part of Mosul from IS was started in mid-February.
Fierce fighting and US-led coalition's airstrikes have led to significant damage in the city, also displacing tens of thousands of people. Western Mosul was home for over 750,000 civilians before the assault, according to the UN estimates.