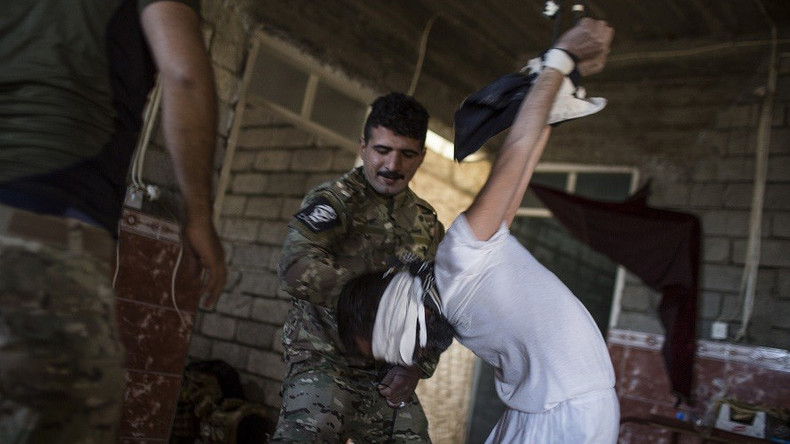 © Ali Arkady / VII / Redux
US State Department 'not aware' of torture & extrajudicial executions by Iraqi forces
The US State Department has denied having any knowledge of the disturbing reports of extrajudicial killings and torture, allegedly conducted by an elite Iraqi special forces unit, which has been made public by freelance filmmaker Ali Arkady.
Last month, Iraqi photojournalist Arkady shared a trove of video and photo material of civilian torture and murder around Mosul which he managed to obtain while being embedded with the elite Emergency Response Division (ERD), a special-forces unit under the command of the Iraqi Interior Ministry.
Documenting some of the ERD's assignments between October and December last year, Arkady eventually defected, taking the disturbing material with him.
Video evidence, shared with a number of media outlets including RT, have evoked the horrors of Abu Ghraib, the infamous prison where the torturous interrogation escapades of the CIA played out.
READ MORE: Iraqi forces carrying out tortures in Mosul mostly supervised by US – security official
When asked by RT's correspondent, Jacqueline Vouga, if the US State Department believes the material evidence provided amounted to a war crime, spokeswoman Heather Nauert said she was not aware of the existence of Arkady's footage.
"I'm not aware of that, and I don't know where the picture came from, so if you want to ask me something more about that, we can look at that later," Nauert, said.
When informed by Vouga that the footage is "everywhere" in the news and asked if the US is "continuing to work with this group" or whether or not Washington will take responsibility for the units that they are coordinating with, Nauert remained unmoved.
"Again, I've not – I've not seen that photograph. If you'd like to show me that photograph later, we could perhaps have a good discussion about that offline. Thank you," she replied.
READ MORE: Siblings who escaped ISIS in Mosul tortured to death by elite Iraqi unit (GRAPHIC IMAGES)
The State Department's position echoed that of the Combined Joint Task Force Operation Inherent Resolve which, in an earlier statement to RT, said,"at no time were US forces aware of or informed of these allegations until you brought them to our attention."
While the State Department failed to comment on the matter, the Pentagon, in this week's statement to RT, said the US military does not train or offer any assistance to the ERD because they had been blacklisted in March 2015 under the Leahy Law which prohibits them from getting military support for human rights abuses.
"The US does not currently train or equip the Iraqi Emergency Response Division," the Pentagon statement said. However, it added, that the "Leahy vetting does not prevent the US from working with the ERD" along other Iraqi forces to better coordinate the Mosul siege.
The Pentagon's statement somewhat contradicts its position on ERD, as outlined in its latest "Department of Defense Budget Fiscal Fear (FY) 2017," budget proposal. In it, the DoD asks for an additional $446.4 million to "provide continued maintenance and sustainment support to the ISF [Iraqi Security Forces] as they fight to retake the city of Mosul."
"The continued and evolving nature of the ISIS threat underscores the importance of training, advising, assisting, and equipping Iraqi Security Forces... including... Emergency Response Division," the document reads.
Over the past week, RT reached out to several human rights groups for comment but the requests were largely met with silence. Human Rights Watch reiterated an earlier statement that "the US is dangerously close to complicity" in war crimes for its working relationship with the ERD.
READ MORE: Iraqi forces execute hospital employee suspected of ISIS links, journalist tells RT (GRAPHIC VIDEO)
"Authorities should immediately and unconditionally establish an independent, thorough and impartial investigation into the past violations with a view to publishing the results and bringing those responsible to justice in line with international standards," the Gulf Center for Human Rights said in a statement to RT.
Meanwhile, HRW said they plan to interview the families of the victims, as according to senior Iraq researcher Belkis Wille, the "images and videos released by Ali Arkady after his embed with the Ministry of Interior's elite Emergency Response Division show that the unit he was following engaged in the most horrific forms of torture and executions of six men they accused of having links to the Islamic State."