Mosul torture exposed: Iraqi forces' abuses filmed (GRAPHIC IMAGES)
Iraqi forces, leading a vigorous battle to liberate Mosul from ISIS, have been exposed torturing and abusing their captives suspected of having terrorists links, according to a photographer who has been embedded with an elite unit of the Iraqi interior ministry.
Having worked alongside the elite Emergency Response Division (ERD) in Iraq, freelance photographer Ali Arkady documented how, in their battle against jihadists, Iraqi security forces resorted to the very tactics that are comparable to the brutal practices of their nemesis, IS.
The photographer, who earned the Iraqi soldiers' trust to cover the Mosul frontline, was allowed to witness some of the "interrogation" sessions, intended to force confessions from prisoners of war accused of affiliation with the terrorist group.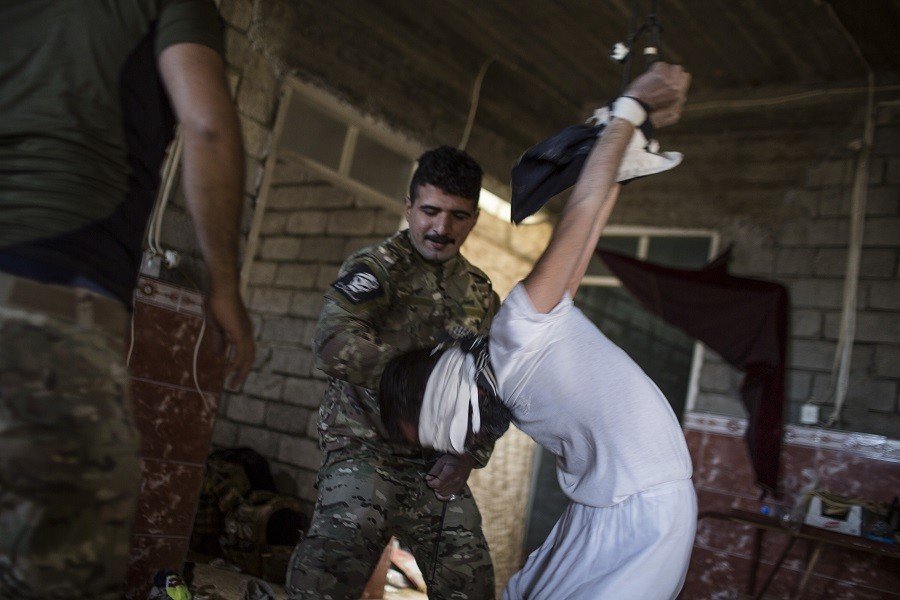 In one instance, the soldiers were torturing a man whose sons were suspected of working with IS in what is known as the strappado. Horrendous images show the detainee hanged by his arms to the ceiling, blindfolded, with officers standing next to him – and adding weights to his back to intensify the agony.
Arkady eventually managed to flee the country, smuggling out the footage of abuse and torture, despite the Iraqi government's attempts to suppress negative reporting.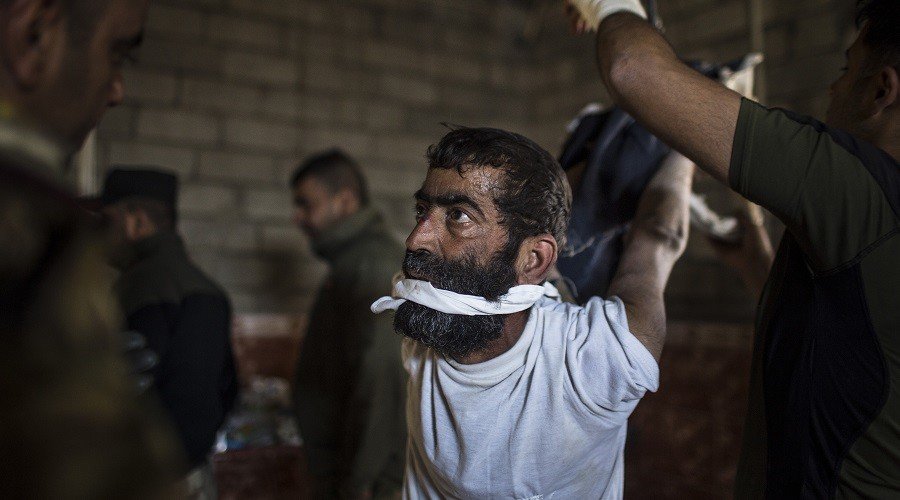 RT's Murad Gazdiev, who travelled to the embattled city in March, has personal experience of how "undesirable footage" is confiscated and how journalists are "threatened with bans for negative coverage."
"Information is contained. One of the biggest and deadliest battles of the 21st century, is actually also one of the most censored and suppressed," Gazdiev, said, adding, that all journalists in Mosul are guided by Iraqi media officials.
"In the course of Iraq's tragic modern history, we have witnessed so many Iraqi citizens enduring the ugliest of assaults at the hands of combatants wearing a variety of uniforms," Human Rights Watch (HRW) said in their reaction to Arkady's material, when it first emerged in the German Der Spiegel magazine.
The gruesome scenes are reminiscent of the notorious Abu Ghraib torture and prisoner abuse, some human rights organizations have noted.
"This kind of torture, we've seen this kind of torture before. We've seen, it is similar to Abu Ghraib," Mohammed Serkal, UN coordinator of the SALAM for Democracy and Human Rights NGO, told RT. "At the moment we see the United States getting involved in Mosul with other countries, which is not allowing other countries to get involved and oversee how the fight is taken place, how the Mosul is getting freed."
"Any human being should be treated as a human being regardless if they are terrorists or they are criminals. They have to be given a chance to speak about the crimes they committed," Serkal added.
"At the moment in Mosul, we do not have any international mechanism or an international kind of committee that are looking at how the fighting is taking place. There is a lot of violation of law, crimes are taken place in Mosul by both sides."
READ MORE: Media coverage of Iraqi Mosul op 'censored & suppressed' – RT reporter in embattled city
What has been captured by the freelance photographer could possibly also cast a shadow on Washington and other members of the US-led coalition in the Middle East, according to HRW.
"The US and other members of the anti-ISIS coalition risk complicity in Iraqi abuses given their participation in military operations with the country's security forces," HRW statement said.
After the disturbing images were made public, the Iraqi interior minister ordered an investigation into the matter, although its impartiality has already been questioned.
"Authorities should immediately and unconditionally establish an independent, thorough and impartial investigation into the past violations with a view to publishing the results and bringing those responsible to justice in line with international standards," the Gulf Center for Human Rights said in a statement to RT.
Civilians shouldn't be targeted during wartime, it emphasized, adding, that international laws regarding prisoners should be in place.
However, "we know of few, if any, Iraqi soldiers or officers investigated and convicted for abuses" by the Iraqi government, HRW said. Arkady's material is "not the only evidence of serious abuses by Iraqi security forces in their battle against ISIS," the human rights group added.
A series of "serious human rights violations" has been documented by the organization in Iraq during the US-backed anti-terrorist campaign, HRW said.
There are documents of "summary executions of suspected ISIS fighters" and detention in "inhumane conditions." According to the NGO, not only are suspected IS sympathizers being abused. Their family members also suffer in Iraq, being subjected to "collective punishment... including home demolitions and forced deportations."
RT is closely following the story, requesting comment from a number of human rights organizations and will bring you more details as it emerge. That was the first in a series of reports on alleged human rights abuses by the Iraqi army in Mosul.