'Airstrike hit as ISIS were shooting nearby': 5yo sole survivor treated at Mosul hospital (GRAPHIC)
Civilians continue to bear the brunt of the Iraqi military push on Mosul neighborhoods where IS terrorists use people as human shields to delay their demise. RT's Ruptly met the survivor of an airstrike that destroyed her house with four people inside.
Amid the ongoing battle for the city, a five-year-old girl who was the sole survivor of an airstrike on her home in Mosul's Jadeda neighborhood is now desperately battling for her life in the field hospital of Iraq Special Operations Forces.
The graphic footage of Hawraa's injured face and leg with medics attending to the wounded girl will forever be embedded in the memory of the grieving father, who lost his wife in the same raid that his daughter was injured in on March 16.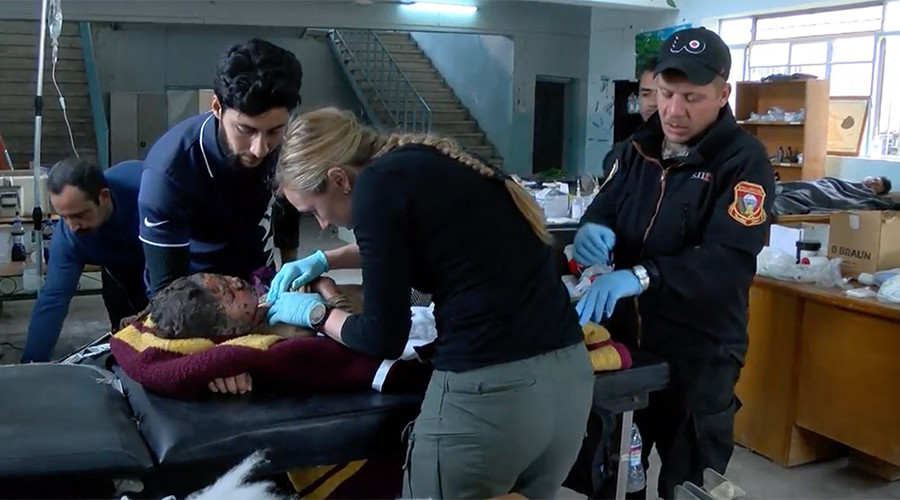 "They [Islamic State, (IS, formerly ISIS/ISIL) terrorists started shooting. There was shooting next to our house, which was in the corner. Then, an air strike hit them," the father explained, adding "there were four people in the house, only she survived."
Indiscriminate strikes by the coalition are directly and indirectly adding to the mounting death toll in Iraq's second largest city, where up to 600,000 civilians are caught in the crossfire. Earlier, Ruply's crew met an Iraqi family that lost a 10-year-old child when the coalition airstrike forced them out of their home.
"The concrete fell on us and we went out running to the main road. There was a sniper on top of a building on that road, I don't know if it was an IS sniper or an army sniper. He said 'go back' and he started shooting at us," Am Hamdan told Ruptly.
The family hid at their cousin's home and early Sunday morning, decided to risk going to a safer area. That decision proved to be fatal.
"My husband crossed the road and the IED exploded, they were behind us, nothing happened to us, but they got hurt and my son died. Omar was 10 years old," Hamdan noted.
READ MORE: Mosul family fleeing airstrike loses 10yo child to IED
On Sunday RT Ruptly also rushed to the scene of a deadly mine explosion in Mosul's al-Mamun neighborhood. There, at least two civilians were killed when they stepped on an improvised explosive device (IED) on their way to a food distribution point. The injured, including several children, were rushed to a nearby military field hospital for treatment.
"An IED exploded on us, we were five or six, because of the IED we didn't realize anything, we were walking on the sidewalk of the street," Mosul resident Farhan Khalid Ali said.
Meanwhile, the Iraqi forces, using attack helicopters, continued to close in on IS fighters in the vicinity of the old city of Mosul on Sunday. Fierce street battles raged throughout the day next to the al-Nuri Mosque, as Federal Police troops advanced past the train station in western Mosul. The black Islamic State flag still flew from the mosque's minaret on Sunday, Reuters reported.
American officials estimate that about 2,000 IS fighters remain inside the city and are desperately using mortar fire, snipers and suicide car bombs to attack the government positions.
"We are advancing toward the Old City. Their resistance is weakening. They are mostly using car bombs and that shows they are losing on the ground," police commander General Khalid al-Obedi told reporters.
After liberating the eastern part of the city, Iraqi forces last month, launched an operation to wrestle areas west of Mosul back from IS. Approximately half of the western side of the city has now been cleared.
READ MORE: 'We're scared both of ISIS & liberators': RT meets refugees who escaped Mosul crossfire (EXCLUSIVE)
Despite pledges and attempts to prevent "collateral damage," innocent residents are often caught in the crossfire. At least 3,500 civilians have already perished in western Mosul since the beginning of the latest offensive, according to prominent Iraqi politician, Khamis Khanjar.
The death toll, impossible to verify amid the chaotic battle, somehow corresponds with estimates of an independent monitor group, Airwars, which believes at least 2,590 civilians have likely been killed by the US-led coalition in Iraq and Syria.
The US military, however, tends to stick to more conservative figures, saying that only around 220 civilians have been killed by the coalition since the start of operations against IS in 2014.
More than 250,000 people have been displaced from the city since the siege began in October, including over 100,000 during the latest phase that began in February, according to the UN refugee agency. In the last week alone, between March 12 and 15, some 32,000 fled the besieged city heading for the overflowing refugee camps.