World's oldest manatee 'Snooty' killed in 'tragic accident'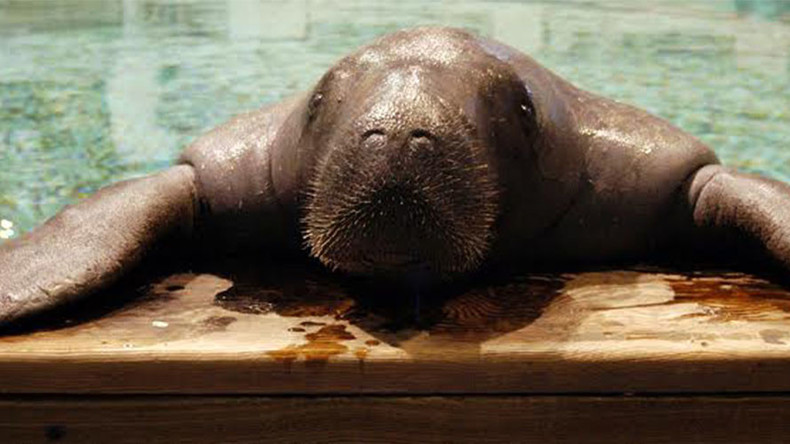 The world's oldest known manatee died at the South Florida Museum, just one day after its 69th birthday celebrations.
Snooty's death was confirmed by the museum on Facebook and described as a "tragic accident."
"Our initial findings indicate that Snooty's death was a heartbreaking accident and we're all quite devastated about his passing," said Brynne Anne Besio, the Museum's CEO.
A full review of the circumstances of Snooty's death will be carried out, although early indications suggest that a bolted panel became dislodged allowing Snooty to swim into an underwater area normally used to access plumbing for the exhibit life support system.
It's believed Snooty was unable to get back out of the hatch. It has not been established how the hatch opened but the museum says it doesn't believe the manatee's death is the result of any malicious activity.
The other three manatees undergoing rehabilitation in Snooty's habitat — Randall, Baca and Gale — are all fine, according to museum staff.
Photos of Snooty were regularly posted on social media and there was great anticipation ahead of his birthday bash.
Snooty, the "Oldest Living Manatee in Captivity" according to the Guinness World Records, turned 69 on July 21.
Over 5,000 people attended a party for the much-loved manatee on Saturday, just a day before his death.
Snooty was born in 1948, at the Miami Aquarium and Tackle Company — the first recorded birth of a manatee in human care.
He moved to Bradenton in 1949 as "Baby Snoots" and became a permanent residence of South Florida Museum. In 1979, he became Manatee County's official mascot.
An animal autopsy will be performed at the Florida Fish and Wildlife Conservation Commission's Marine Mammal Pathobiology Laboratory in St. Petersburg.
The aquarium will remain closed as the museum conduct an investigation and allow staff members to grieve.