$200,000 selfie: Domino disaster sees woman demolish art installation (VIDEO, PHOTOS)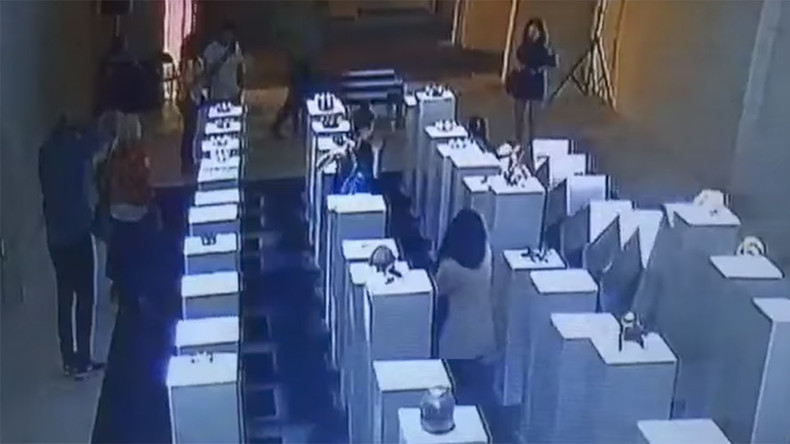 In the digital age people will go to extraordinary lengths for the right selfie but picture-perfect can often come with a high price tag, as one woman found out recently at an exclusive art exhibition in LA.
Two weeks ago at the 14th Factory exhibition in Lincoln Heights, a patron attempted to take a crouched selfie in front of the 'Hypercaine' exhibit, by Hong Kong-based British artist Simon Birch and fellow artists Gabriel Chan, Jacob Blitzer and Gloria Yu, when disaster struck.
"She was horrified and super upset and we took down her details but decided not to take action as it was clearly an accident and she's a student," Birch told RT.com.
The exhibit consists of a grid of various crowns made of wood, gold and marble.
The title was inspired by the electronic dance track 'Hypercaine' by DJ Fresh. It's also a signifier of the ultimate human drug — power. pic.twitter.com/4Ryv1DwmpQ

— The 14th Factory (@the14thfactory) July 13, 2017
The woman squats down to take a selfie before losing her balance, knocking over one of the pedestals in the process, causing a domino effect with other pedestals resulting in damage worth $200,000, according to Hyperallergic.
CCTV footage of the incident was published to YouTube on Thursday.
"Many of the crowns were ok, there were 11 on that row, some gold plated, some nylon and some other mixed materials. We fixed up most with a bit of glue and only 1 super delicate one was totally f**ked," Birch said.
In an oddly prophetic description, the LA Times described the exhibition as a "series of wondrous, over-the-top sets for the perfect selfie," under the headline "Oh, the selfies you'll make at L.A.'s 14th Factory, where the art is so social."
However, doubts have been raised about the authenticity of the purported CCTV footage as many believe it's merely a publicity stunt designed to gain more exposure for the artists.
"It's real… the girl came in and, though we tell everyone to be careful, the staff was in conversation with someone at the time and not paying attention," Birch told RT.com.
As part of the exhibition, Birch also displayed footage of him destroying one of his sportscars, a $50,000 Ferrari 308.
"A well timed selfie could bring down a president, so why not a crown or two," Birch concluded.