Peruvian shamans perform peace ritual for Trump & Kim Jong-un (VIDEO)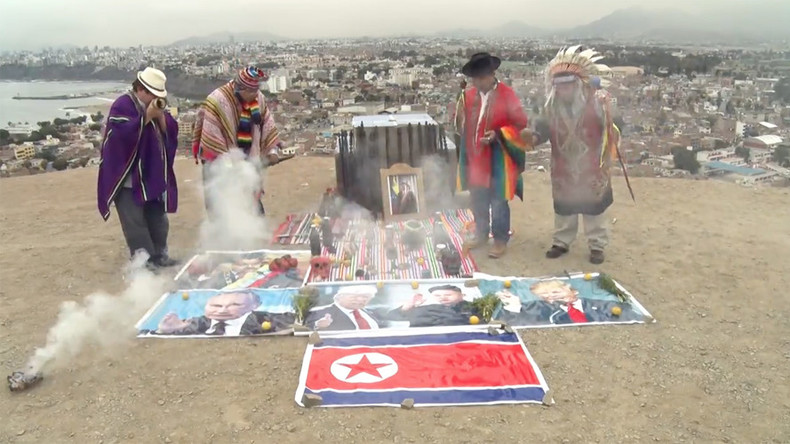 A quartet of Peruvian shamans gathered near Lima on Monday to perform a special ritual, designed to help the US and North Korea ease the current tensions. The 'Shamans for Peace' used leaves and smoke, as well as human skulls and swords.
To perform their quirky act of peace, the shamans scattered leaves on the portraits of US President Donald Trump and North Korean leader Kim Jong-un. To bestow positive energy on the pair, the shamans moved skulls and blew smoke over their photos.
They chanted and used musical instruments for Washington and Pyongyang to finally end their war of words and start talking peace.
"We have come to do a special ritual for peace between the United States and North Korea because they are using all the best modern weapons, but the world above all calls for peace and so there is no conflict, war, destruction, slaughter," one of the shamans, Juan Osco, was quoted as saying by Ruptly news agency.
Read more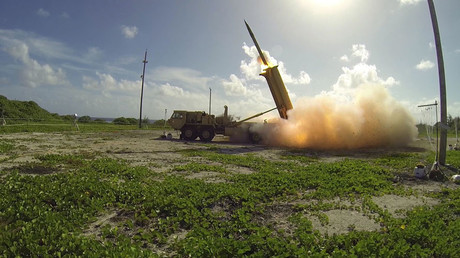 "We are envisioned that North Korean President Kim Jong-un is willing to show the whole world his power, but he does not dare because there are other countries that are resisting and saying that there is no such war that does not unleash a modern technological war today," he added.
Pictures of Russian President Vladimir Putin and Venezuela's Nicolas Maduro could also be seen in the footage, though their role during the gathering was unclear.
Pyongyang's ballistic missile tests have caused serious concern among the US and its allies, with tensions running high on the Korean Peninsula. In late May, North Korea launched a short-range ballistic missile which landed in the Sea of Japan, about 300km off the Japanese coast.
Also in May, Pyongyang said that it had successfully tested the Pukguksong-2 intermediate range ballistic missile, after a projectile was detected landing in international waters off Japan's east coast. North Korean leader Kim personally supervised the test of the new missile.
The White House has repeatedly called on North Korea to abandon its nuclear and missile programs. In March, President Trump accused North Korea of "behaving very badly" and "playing" the US for years.
On Monday, US Defense Secretary Jim Mattis stated that "the most urgent and dangerous threat to peace and security is North Korea" and that its nuclear program is "a clear and present danger to all."
Pyongyang has repeatedly said that Washington is increasingly building up its military presence in the region while also conducting war games with its allies, such as Japan and South Korea.