Woman distracted by phone tumbles through sidewalk trapdoor in horror fall (VIDEO)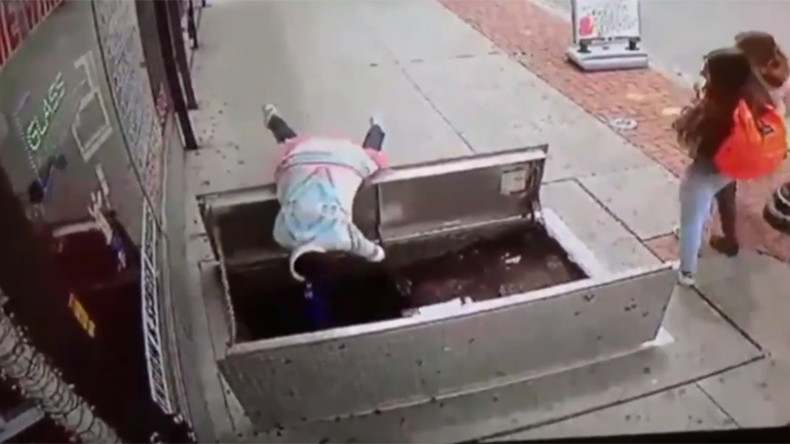 The dangers of using your phone while walking were on full display when a phone-distracted woman tumbled head first into a huge hole in the sidewalk.
The woman, who was strolling down Somerset Street in Plainfield, New Jersey, became distracted by her phone to such an extent that she failed to notice a huge, wide open, set of access doors which had left a gaping hole in the sidewalk.
READ MORE:Cringe factor! 10 most awkward moments of #GE2017 (VIDEO)
Video footage recorded by a CCTV camera on Acme Windows, a window and glass repair store, shows the woman tumble headfirst through the doors. The doors were open while gas lines were repaired and the helmet of one of the workers can be seen as the woman falls through.
The video shows two witnesses react with shock as the woman plunges over the barrier.
The 67-year-old woman fell 6ft (185cm) before hitting the ground. She was removed by firefighters and was rushed to hospital by ambulance having suffered serious injuries.
The woman looking at her phone may not have been the entire cause of the mishap, however. Her son told CBS that she is "legally blind" and has trouble seeing blended colors.
Video footage of the incident was broadcast by local TV stations and it has since been widely viewed online.
An Acme Windows employee told RT.com that reporters came to the store and filmed the CCTV footage with their own cameras. They were unable to provide RT with original footage of the incident.