Man pictured mowing lawn next to Tornado creates online storm (PHOTO)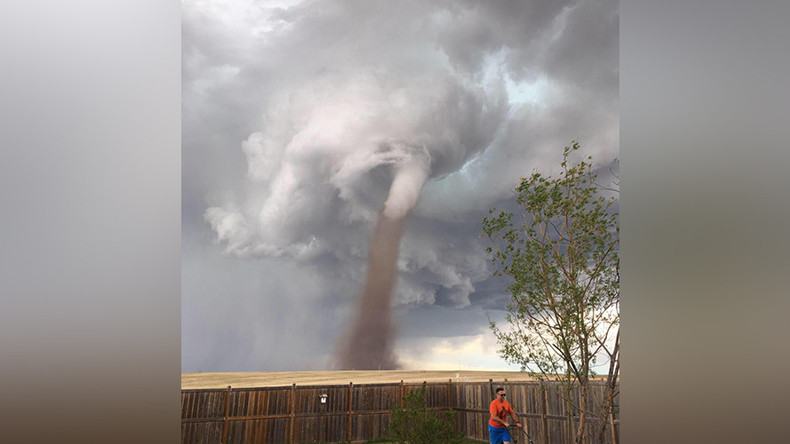 A photo of a man causally mowing his lawn while a giant tornado looms in the background has got the internet in a spin.
The awesome photo, taken in Alberta, Canada on Friday, shows Cecilia Wessels' husband, Theunis nonchalantly mowing the lawn as the tornado passes by their home in Three Hills.
Wessels said she only took the picture to show the tornado to her parents in South Africa, and never expected the social media storm that followed. She added that cutting the grass had been on her husband's to-do list for a while, and once he started, he wanted to finish.
Thenuis said the twister looks closer in the picture than it actually was, and insists he was "keeping an eye on it."
"It looks much closer if you look in the photo, but it was really far away. Well, not really far, far away, but it was far away from us," Thenuis told CBC. "I was keeping an eye on it."
Many Twitter users drew comparison between Thenius' calm composure in the face of uncertain chaos and today's political climate.
A man mows his lawn ignoring the tornado that looms behind him. This is a great metaphor for the new US policy on climate change. pic.twitter.com/u9WDN3LcP6

— Adam Best (@adamcbest) June 4, 2017
I don't know Rachel, sometimes it feels like we're mowing the lawn headfirst straight into the tornado

— Aadil Bharwani (@AadilBharwani) June 4, 2017
READ MORE: 3 storm chasers killed in Texas crash while pursuing tornado
The tornado was a result of a severe thunderstorm and despite more incredible photos of the storm touching down in Wimborne, there were no reported injuries.