#Breaking2: Kenyan runner comes agonizingly close to sub 2-hour marathon (VIDEO)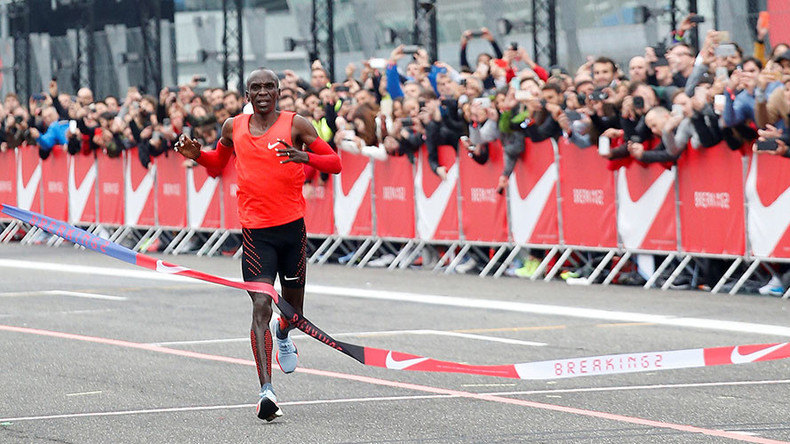 Kenyan runner Eliud Kipchoge narrowly missed out on becoming the first person to run a marathon in under two hours when he posted a time of 2:00.25 at the Monza Grand Prix circuit in Italy.
The hashtag #Breaking2 is currently trending online as marathon fans, who had been glued to the live streams of the event on Twitter and Facebook, heap praise on the runner.
READ MORE: First woman to run Boston Marathon does it again 50 years later (VIDEO)
"I can say it is possible for a human to run under the two-hour mark. This journey has been good. It has been hard," Kipchoge said on completing the run Saturday morning. "It has taken seven good months of preparation but I am happy to have done that. I think this is history."
Despite beating the world record time of 2:02.57, set by fellow Kenyan, Dennis Kimetto, Kipchoge's time does not count as a world record due to the use of in-out pacemakers – a group of 20 runners deployed to keep the pace necessarily quick and shield the attempted record breaker from wind.
Athletics regulations ban their use, stating "pacing in races by persons not participating in the same race" is "considered assistance, and therefore not allowed". So even if Kipchoge had broken the two-hour barrier it would not be officially recognised.
Despite falling short, the Kenyan is still receiving major props for his stunning attempt at the Nike-sponsored event Saturday morning.