'Keep the children out of it': Barron Trump unites social media users more than any other issue
Published time: 30 Apr, 2017 15:31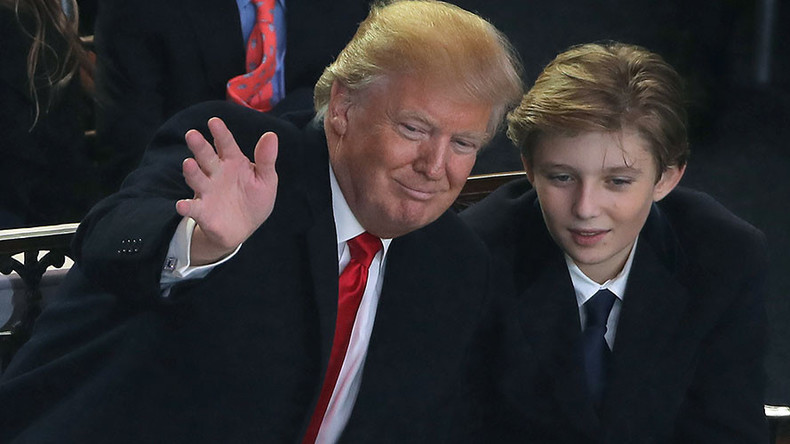 The most clicked articles during Donald Trump's 100 days in office were in defense of his youngest son Barron, new social media data has revealed.
Chemical weapons attacks, Russia and Trump's tax returns failed to motivate social media users in the same way as young Barron Trump.
SocialFlow is a platform used by more than 300 publishing brands to maximize their social media presence to reach the largest possible audience. It compiled data across major social media networks for Trump's first 100 days, and found articles defending Barron Trump were the most clicked articles during that period.
Barron Trump deserves the chance every child does-to be a kid. Standing up for every kid also means opposing @POTUS policies that hurt kids.

— Chelsea Clinton (@ChelseaClinton) January 22, 2017
Barron Trump became the target of cruel social media attacks following Trump's inauguration in January, when footage of the then 10-year-old was used to imply he was autistic.
For many, this was going too far, and the smear managed to unite social media users in defense of the youngest Trump.
SocialFlow found the most clicked articles about Trump since his inauguration were in defense of Barron's right to privacy. The Barron articles were the most read out of the top 500 stories from Trump's presidency so far.
"At a time when so much seems to divide our country, this is one example of how people from all parts of the spectrum share a common value: keep the children out of it," SocialFlow CEO Jim Anderson told CBS. "And if we can find one common shared value, it's a good bet there are others."
The most shared Trump story was that of a federal judge reversing Trump's Muslim ban, with 116,000 shares.
"When then-candidate Trump proposed in December 2015 a ban on Muslims entering the country, our data showed that it eclipsed all other topics in the campaign at the time," Anderson added.
"At that point, he was the most talked about person on the planet, and we had to stop comparing him to other political candidates and start comparing him to the kind of attention generated by celebrities."
"The most surprising part was what wasn't there," Anderson said. "We didn't see nearly as much engagement on stories about Russia, health care, the border wall, or tax returns or even FBI Director Comey."
According to SocialFlow data, people have spend the equivalent of 3,152.7 years reading about Trump since his inauguration.