'Look at that, you son of a b*tch': Trump targeted in 'first space protest' (VIDEO)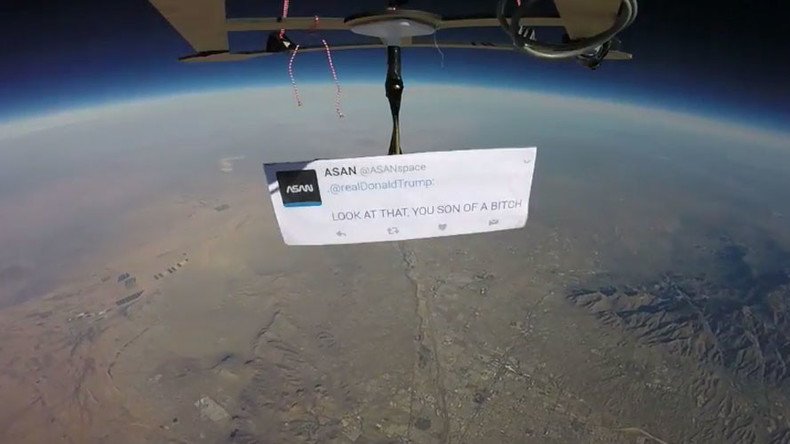 Donald Trump is no stranger to being the target of political demonstrations, but now, the US president has apparently earned the distinction of provoking the "first protest in space."
The Autonomous Space Agency Network (ASAN), a global network which promotes open source and 'DIY' space exploration, said it executed the first protest in near space on Wednesday to mark Yuri's Night - a commemoration of the first human spaceflight by Russian cosmonaut Yuri Gagarin.
Drawing on inspiration from Apollo 14 astronaut Edgar Mitchell - the sixth person to walk on the moon - the agency tweeted a no nonsense message to President Trump alongside spectacular footage of the same message dangling from space.
The banner echoes the memorable remark Mitchell made to describe the overwhelming experience of seeing the Earth from the moon: "From out there on the moon, international politics look so petty. You want to grab a politician by the scruff of the neck and drag him a quarter of a million miles out and say, 'Look at that, you son of a bitch.'"
ASAN said the giant tweet print-out was launched from one of dozens of concrete crosses near Phoenix, previously used to calibrate the first spy satellites.
It was attached to a weather balloon to an altitude of 90,000 feet, within near-space.
The group said the 'protest' was in solidarity with the upcoming March for Science which is planned for Earth Day (April 22) and is aimed at defending the "vital role" of science in society.
READ MORE: Trump revokes Obama climate change rules, declares end to 'war on coal'
The march came about as a grassroots reaction to concerns about the Trump administration's perceived "war on science." Organizers say "science, scientists, and evidence-based policymaking are under attack."
You can share this story on social media: