Playboy priest: Spanish clergyman apologizes for channeling Hugh Hefner in carnival parade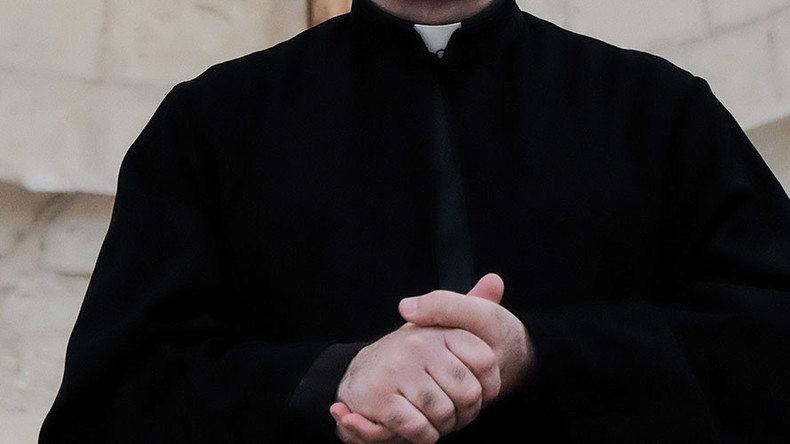 A Spanish priest is seeking forgiveness after exchanging his cloak for a Hugh Hefner ensemble, channeling the Playboy icon during a carnival parade. The clergyman even simulated sex with one of his 'bunnies,' who happened to be a man.
Juan Carlos Martínez typically spends his days leading mass, offering communion, and praying with his congregation. But the 40-year-old clergyman decided to mix things up during last week's carnival celebrations in the Galician town of Cuntis.
Dressed in a red bath robe and captain's cap – the legendary fashion preference of Playboy founder Hefner – Martínez hopped aboard a parade float sandwiched by two men dressed as Playboy Bunnies.
He and his hairy, not-so-feminine bunnies lounged on a trailer made to look like a bed, topped with red satin sheets. They relaxed as they were towed through town by a 4x4.
Martínez and his buddies appeared to be having a good time – so good that he and one of the male bunnies decided to simulate sex while on the float.
Although the encounter likely led to laughs in the crowd, the Catholic Church was less amused, asking Martínez to attend a "spiritual retreat" to reflect on "behavior clearly inappropriate for a priest," La Voz de Galicia reported.
Speaking to his congregation from the pulpit, Martínez said he is genuinely remorseful for his naughty antics, telling the pulpit that he is "so sorry to those who feel offended." He said he had requested an appointment with the Archbishop of Santiago to make a formal apology.
However, not everyone seems to share the Catholic Church's disapproving sentiment – many in the town have spoken up to defend Martínez. Dozens gathered to support him when senior priest Calixto Covo arrived to admonish the clergyman.
"Such things happen at carnival, it's just a bit of fun," one resident told local broadcaster Antena 3. "He's a great priest and everyone loves him."
Martínez's popularity hasn't gone unnoticed by Covo – despite the senior priest making a special trip to give the 40-year-old a dressing-down.
"It's great that he is well loved by the people he served," Covo told La Voz de Galicia, adding that there would be no lasting consequences for the priest.