Rock on, baby! Bluetooth-activated cradle could help reduce new parents' sleepless nights (VIDEO)
Published time: 28 Feb, 2017 08:48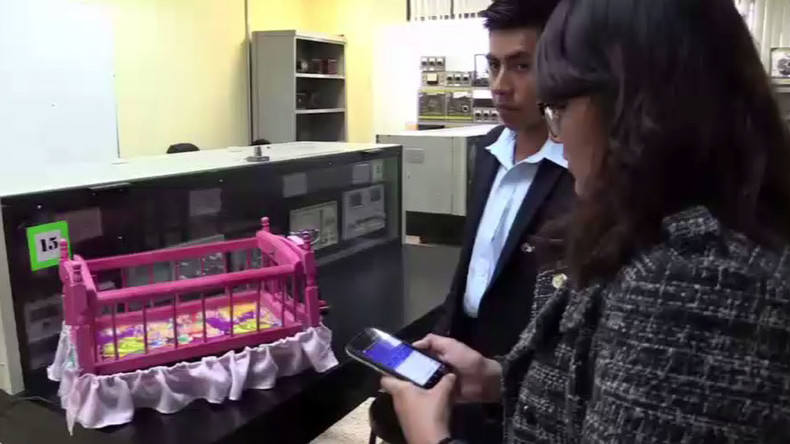 Students in Mexico City have developed a Bluetooth-activated cradle for babies to help new parents get more quality sleep and better manage their time at home.
The system connects with Android mobile devices and can automatically rock the baby's cradle at a preprogrammed speed the moment it detects any sharp or sudden movements that might indicate the infant is awake or uncomfortable.
The device, developed at the National Polytechnic Institute (IPN), is calibrated according to the weight and size of the average baby, but parents can customize the settings as needed.
While the system is not designed to act as a surrogate parent or become some kind of robot nanny, it can help to keep the child calm while the caregiver arrives from elsewhere in the house, given that it has a range of up to 15 meters.
"The prototype uses an automated sensor connected to a PIC microcontroller and a Bluetooth module which it uses to notify the mobile device that the baby has awoken or is uncomfortable so that the user can switch on the cradle," details the University's press release.
The students who developed the device Luis David Olvera Sánchez and Minerva Monserrat Pérez Osorio confirmed that the device poses no risk to the baby's health as the short-length radio waves produced by the Bluetooth system do not interfere with the human body, according to Exelsior.
Olvera Sánchez acknowledged that while there are similar products on the market, this latest device is cheaper and more cost-effective. He added that the next stages in development are to add a multi-track music player and a camera, to add more functionality and help stressed out parents manage their time more effectively.