English slogan for Paris Olympic bid enrages French language groups
Published time: 17 Feb, 2017 17:27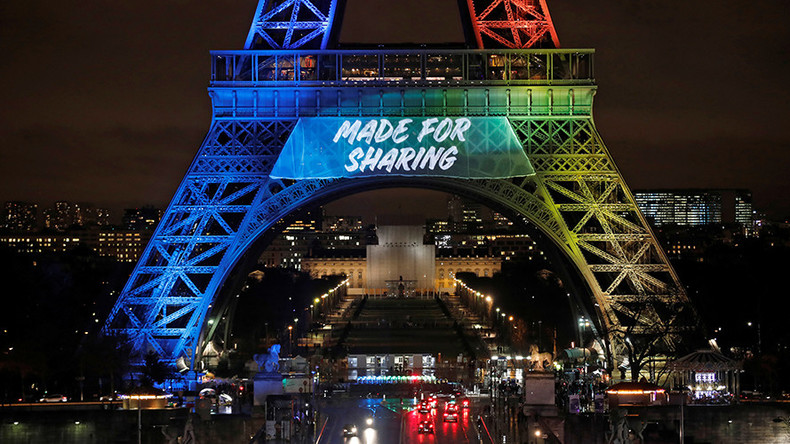 The proposed slogan for the Paris 2024 Olympic bid has angered French language associations, who have described the slogan as "the language of Donald Trump," and compared it to a fast-food advert.
The English language slogan 'Made for Sharing' has prompted three cultural associations this week to take legal action in the Administrative Court over the "serious insult to the French language," and a "violation of the constitution," RTL reports.
The associations have already sent formal notice to the organizing group for Paris 2024, and, in a motion to be filed at the Paris administrative court, have called for the slogan to be withdrawn from the bid.
Premier cas de dopage aux JO de 2024 : le slogan de Paris aux anabolisants anglo-américains.

— bernard pivot (@bernardpivot1) February 6, 2017
Bernard Pivot, president of the Academie Goncourt, one of the associations bringing the challenge, described the slogan as "a mistake, an absurdity."
"Paris, the capital of the francophone world is bowing to the language not only of Shakespeare but also that of Donald Trump!" he said.
Another association, Académie française, said it "disapproved" of the slogan, and drew attention to its unoriginality. "This slogan has already been used in advertising campaigns for Quality Street candy, Cadbury Snaps and Burger King pizza," it read.
The academy, which tracks English in the French language, is also angered by the decision to use an English slogan, despite the inclusion of a French version, 'Venez partager'.
"The Académie française unanimously expresses its disapproval at the decision of the committee to give priority to the English language to carry the Olympic bid of the city of Paris." it said.
"The official languages of the International Olympic Committee are French and English – in that order," it added.
Paris-2024 co-chair Tony Estanguet explained the choice of slogan earlier this month. "We want to share the passion of the Games in a unique celebration in the stadiums and in the streets. Organizing sharing games in a world of sharing."
A decision on the 2024 Olympics location will be made in September, with LA and Budapest also hoping to win.