Out of this world: How the ISS crew rang in the new year (PHOTOS)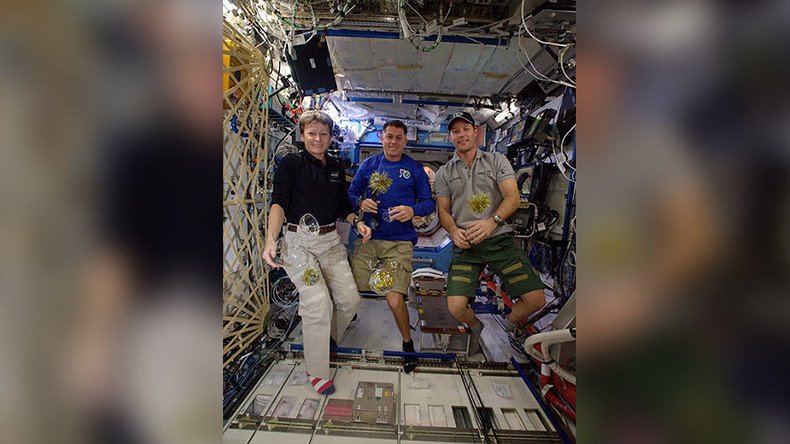 Away from the firework displays and street parties down below, the astronauts onboard the International Space Station welcomed 2017 with a quiet night in. Those onboard took to social media to wish a happy new year to all of us back on Earth.
Members of the crew posted an Instagram pic wishing a Happy New Year from all on board the space station, complete with tinsel and baubles.
Alongside a beautiful photo of Earth, astronaut Shane Kimbrough tweeted "Wishing everyone on Earth a Happy New Year from 250 miles above our planet!"
The Russian astronauts on board also sent their regards with a video message. "At the International Space Station, we can make 16 wishes as the new year comes 16 times here. We believe in a bright future, in our country and all of you who live and work for Russia's sake," Andrei Borisenko says in the message.
"We are always with you, our nearest and dearest, with you, our nation. We wish you health and prosperity, luck and goodness. Happy New Year," adds Oleg Novitsky.
Sergey Ryzhikov also posted an aerial photo to Instagram of Moscow before the New Year's Eve celebrations commenced.
French astronaut Thomas Pesquet took to his native tongue to wish those back home a Happy New Year, tweeting "Bonne année à tous!!!" He also sent an image of Houston, TX from space, sending his regards to his friends and colleagues partying below him.
For those wishing they could spend New Year's Eve in space, it's worth noting their final meal was gelatin. Floating may look like fun but forget fine dining.
You can share this story on social media: