Pubic order offence: Genitalia-shaped Christmas lights get man arrested (VIDEO)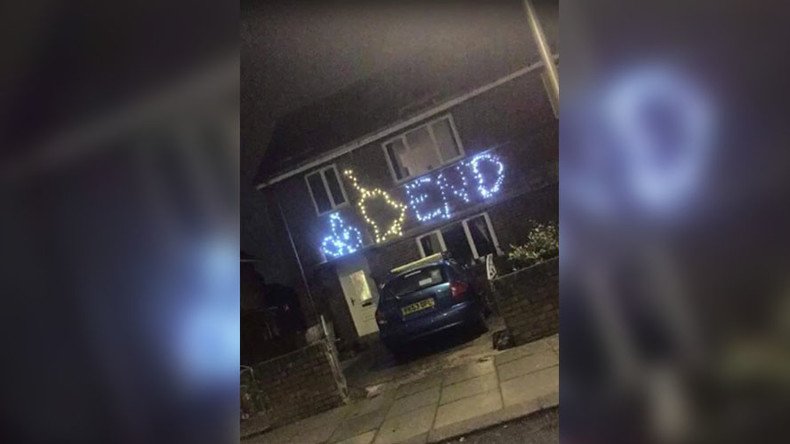 Christmas is a time to be creative with decorations. One Englishman, however, went too far by displaying festive lights in the shape of a penis on the front of his house – and was duly arrested.
Steve McGawley's argument with police over his bizarre choice in decor was captured on video in Blackpool. The lights display consisted of an outline of the male organ, accompanied with a bell and the word "END," which officers described as being "not very Christmassy."
Having previously displayed the word 'c**t' in lights, any lingering festive goodwill had evaporated by the time police knocked on his door and demanded the latest design be taken down.
When McGawley asked why, he was told by one of the officers: "Because that looks like a penis, that's like a bell and that says end, so people have taken offense to it."
Everyone needs to watch the video doing the rounds of the bloke with the 'offensive' Christmas lights. I can't stop watching it. HILARIOUS.

— Rachel Hawkins (@ourrachblogs) December 22, 2016
After he switched the lights off, the police were still not happy: "Your penis is still offensive," he was told. "People have been complaining, so you either take the lights down, or I'll lock you up and take them down myself."
After McGawley refused to take the lights down, arguing that his penis-shaped light display was actually a mushroom, he was arrested.
A Lancashire police spokesperson confirmed to Metro that a man was arrested for his offensive Christmas lights following "a number of complaints in relation to fairy lights on the outside of the house."
"Despite attempts to engage with the occupant, the lights were not taken down and a 43-year-old man from Blackpool was arrested on suspicion of a public order offence and issued with a penalty notice for disorder," police said.
You can share this story on social media: