Cremation on camera: Employee under fire for posting graphic videos online
Published time: 1 Dec, 2016 12:23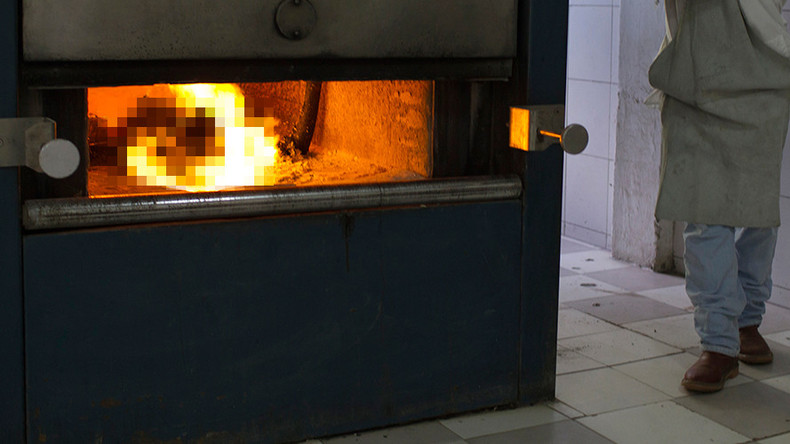 Social media users in China have been horrified to find videos of cremations posted online along with inappropriate comments. The faces of the deceased were reportedly visible in some of the footage.
The videos, which originated from Chengdu, southwest China, according to China's Newssc, have since been removed. Bodies being dressed and cremated and some grieving relatives could be seen in the videos, reportedly filmed by a 20-year-old employee of the crematorium.
One video showing bodies being carried into the crematorium on a stretcher was shared with the comment, "It is not easy to get dead bodies in on such a cold day." Meanwhile, a video showing flames had the comment, "Come quickly to warm yourself at the fire," and another said, "Enjoy the fire!"
The videos were posted to the Chinese social media site Kuaishou by an account named 'Chengdu Funeral Service Center', which has since been blocked and the videos removed after being reported by a user.
Users of the social media site Weibo reacted in disgust to the crematorium worker's bizarre actions, accusing him of lacking both professional ethics and empathy. "He will probably never understand the helplessness and heartache of watching a person you love disappear in front of you," one commenter said.
Another said: "I hope the person who streamed these videos will be burned himself."
However, banning the videos from Kuaishou was also criticized as the videos had been shared elsewhere before being removed. "You think you can stop these ridiculous things from happening just by banning the stream on Kuaishou? It's not solving the problem at source. It's going to be reignited all over again," one user said.
The exact location of the crematorium remains unknown, Sichuan News Network reports.